DZ News & Developments (inc. Covid-19 update)
Thursday, April 1, 2021
Hi TSC Members and other Friends of Ramblers Drop Zone, and all our Pilots and other non-skydiving Staff,
First up – Covid-19 and how we have to behave on the DZ. With the recent outbreaks of Corona virus in Sydney and the implications this has on the rest of us, Queensland Department of Health have published procedures that we must follow or risk breaking the Law, being heavily fined and being closed down! Yes, you have read correctly; being closed down. Everybody who enters the drop zone at Toogoolawah MUST adhere to our Covid-19 procedures.
(A). On board the aircraft:
Everybody MUST wear a mask or a full face helmet when on board the aircraft. The visor on full face helmets must be shut on climb to height, or wear a mask.
No Hi-Fives etc on jump run.
No unnecessary chatter on the climb to height.
DO NOT video activity on board the aircraft when people are inadvertently not wearing their masks.
DO NOT put your video on Facebook, YouTube etc if there is any footage of masks inadvertently not being used or other breaches of our Covid rules.
If the above two requirement are not adhered to it will become necessary to NOT ALLOW any fun jumpers' cameras on the aircraft. We must police ourselves otherwise it will be done for us!
(B). On the ground:
Maintain Social Distancing.
No hand shaking. Use your elbows if you feel the need to shake hands.
No hugs etc. Just don't do it! Remove yourselves from the DZ if you need to show intimate affection.
Wash your hands. Use the sanitiser provided.
Do not leave your stuff on the eating counters.
Do not eat at the TV watching area.
Put your rubbish in the rubbish bin. Don't leave it where you've finished eating.
(C). Important.
If you are NOT JUMPING on any day you are on the Drop Zone you must register your presence with Manifest and use the  QR Code. This applies to PILOTS as well as skydivers not jumping and any non-jumpers. That's everybody on this drop zone every day. Watch this space: Covid apps are coming, and so are the Covid-19 officials. We have been warned.
At present the Drop Zone is open for Skydivers Only. General Public are excluded from entering the DZ for the time being. Only tandem passengers' friend or family, maximum two are allowed access onto the DZ.
Please take serious notice: Being even able to skydive here at Ramblers is a Privilege not a Right. We are lucky. Do not blow it. Adhere to what is required and expected of you once you enter the Drop Zone. If you can't accept it don't come! This is serious stuff.
---
Make sure you have also read our DZ & Covid-19 Notice – click image to read the notification: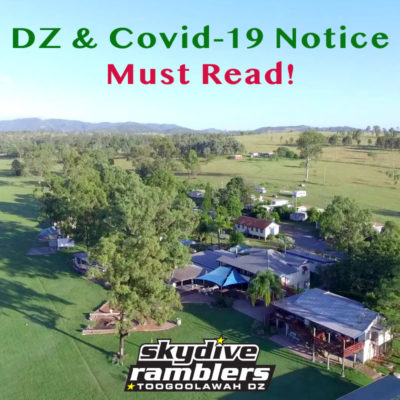 ---
Next. Something New
(A). The DZ will soon be running a different manifest system.
Soon we will no longer be using Jump Tickets, except for Gear Hire, Coach and Hop & Pop tickets. We will be using a Credit system. You will need to open your account with Manifest and put fees into it. Manifest will be recalling all tickets and converting them to credit amounts into your account. When you manifest for a jump to height or when you purchase a ticket your account will be debited accordingly.
TSC members only will be eligible for a reduced rate for jumps to height ($450 deposit=10 jumps to height). The responsibility of Proof of TSC Membership will be with TSC Members not Manifest. The Club will need to provide members with an in date Membership Card.
The new system will be in place early in 2021. More information coming soon.
(B). DZ Registration Fees update.
The following DZ Fees will be introduced in 2021:
$10 per day if paid daily.
$20 for 4 consecutive days.
$30 for 10 consecutive days.
$40 for one calendar month. TSC members only.
$100 for 3 months. TSC members only.
$150 for 6 months. TSC members only.
$200 for 12 months. TSC members only.
Note: Ramblers will compensate members who have pre-purchased yearly and half-yearly fees at the old rate.
Please spread the word. And your feedback will be appreciated.
Regards,
Dave McEvoy.