Learning Curve Camps
Progress fast and be safe!
Curve it up!
If you are like us, the completion of your basic training and B-Rels was an extremely rewarding experience, and you'd like to keep that Learning Curve happening. We know that continuing or refreshing training is important and that information, coaching and support is essential. That's what Learning Curve Camps are all about, and the choice is yours: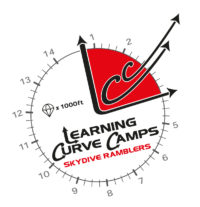 Complete your Course
Get your A-licence
Complete your B-Rels
Achieve your Star Crest
Prepare to attend a large boogie
Learn to free fly
Refresh your flying skills
Improve your canopy flight and landings
Get started with camera
Have some fun!
There's no need to be scared, no need to be lonely and absolutely no need to be frustrated. Our Learning Curve Camps are a proven way to help bridge the gap and increase awareness, confidence and skill levels in a fun and focused environment.
Learning Curve Camps are held at our Toogoolawah Drop Zone about every second month throughout the year. They are a personalised boogie/coaching camp designed specifically to cater for beginners and low experience level jumpers (ie. "A" – "D" licensed jumpers) who are looking to consolidate their skydiving.
You tell us what you want to do, what you need to learn more about and the skills that you need to improve upon – and we'll make it all happen!
Have you got questions? Then get answers! Our full-time team of coaches, instructors, riggers, packers and cameraflyers are dedicated to you during the Camps, so come along and pick their brains!
The Camps are free to attend – you just pay for the jumps that you do, standard coaching fees and equipment hire if required.
During the week we host evening seminars/workshops on various topics such as tracking and separation, canopy openings and malfunctions, canopy flight and landings, equipment maintenance and packing tips and a number of Question & Answer sessions designed to make us all think. Plus, any weather holds attract more group sessions.
As a bonus we video the landings each day and debrief them after dinner each night – the good, the bad and the ugly! If the thought of having your landings videoed is a turn-off, scary or embarrassing, then that is the very reason you should attend! You will more than likely start taking pride in your touchdowns and these debriefs may be the best thing you've ever been involved in!
We offer B-Rels, freefly coaching, 1-on-1's, 4-way coaching, tracking jumps, starcrests, canopy handling jumps, intro CRW, coaching for new cameraflyers, night jumps, hoop jumps, hybrids, swoop 'n' chug and so much more!
All loads are to 14,000ft from our jump aircraft, the 16-place turbine Caravan. Demo Pro-Tracks and Birdman Wing Suits are available. Ramblers have four sets of modern skydiving equipment available for hire with a range of main canopy sizes. The coaches and instructors generally wear their video on every jump at no charge to you, plus photo shoots are available.
Ramblers drop zone, or Ramblers Skydiving Resort as we like to call it, has excellent facilities including a large carpeted packing area, shaded creeper pad, video dubbing stations, foosball & pool tables, inground swimming pool, hot showers, clean toilets, laundry, Café, BBQ, huge bar and so much more! On-site accommodation available to rent (bookings essential) includes bunkhouse, powered camp sites, caravans, cabins with ensuite (see Price List).
Bookings for the Camps are essential as we need to know that you are coming and what you want to achieve so that you receive quality attention throughout the week. Experienced jumpers are more than welcome to attend and get involved in what is a fantastic week.
Ask Yourself…
You might think you know all the answers, but have you asked yourself the right questions?
Do you know how and why the plane is stacked and exited as it does?
Do you know about run-ins, ground speeds, line of flights, spotting?
Do you know how to read the GPS?
Do you know what direction the runway runs?
Have you had a malfunction?
Would you like to refresh your training on malfunctions?
Have you practiced cutting away on the ground?
Have you done your monthly maintenance?
Do you know what monthy maintenance is?
Would you like some tips on packing techniques?
Would you like some information on gear maintenance?
Do you know if your lines stretch or shrink?
Are you scared under canopy?
Are you scared to take your hands off your toggles?
Do you use your front and back risers?
Have you done a canopy handling jump?
Would you like to improve your landings?
Would you like to improve your accuracy?
Have you had many of your landings videoed?
Do you experiment with your tracking body position?
Do you aim to improve your track on every jump?
Are you scared to go on a tracking jump?
Do you want to learn more about doing camera?
Get Answers!