Customer Reviews & Testimonials
Ramblers Skydiving Reviews
At Skydive Ramblers, we always strive to provide each of our students with the best skydiving experience possible, but don't take our word for it – see what our customers have to say! Read the reviews and testimonials below to find out what students have to say about their experience at Skydive Ramblers near Brisbane, QLD.
Already Jumped with Us?
We value our guests' feedback and would love to hear from you! Please contact us and tell us about your experience at Skydive Ramblers. You can also leave us a Google Review or TripAdvisor Review. Thank you!
Adam Parker
Hey guys,
Thanks for running the Learning Curve Camp last week! It was run to your usual high standard and was a very beneficial experience, especially given my lack of currency after the main COVID closures. I thoroughly enjoy attending these weeks and really appreciate the time dedicated by the whole team at Ramblers, including the instructors, manifest, cafe team, aviation crew/pilots, and support staff. You are all legends and I look forward to coming out again in the near future.
Cheers, Adam.
Briana Goodchild – Channel 9 Today Show
They helped me overcome all my fears! It was INCREDIBLE!
So last week I did a tandem jump!!!!! Was such a mad time! 🤯🤪🤩😮🤗 I've never wanted to skydive before but was asked to do it for work, so I really quite nervous. But the team at Ramblers Toogoolawah were so professional and cool that they made it such an undeniably EPIC and INCREDIBLE experience! Would even do it again! Highly recommend jumping there.
Danielle Richter
These guys are a well oiled machine, what an amazing experience and such awesome people and facilities! A MUST for all!
Robin Armstrong
Ramblers is a great club and a great drop zone. It was 39 years ago and it is now. I have just gone through the photos of my tandem jump with Darren and relived the whole exhilarating experience again – even my husband was impressed. Congratulations to Dave McEvoy for such a fantastic venue.
Gordon Price
Was anxious-as coming in to start my AFF course, but these guys truly put me at ease. Felt more like joining a members club than just buying a commercial course. Great atmosphere – encouraging staff – awesome experience…..Now I just gotta get back and complete the course!
Abigael Ellen
Such a good experience, they made it feel like coffee with an old friend!
Andy Greggs
The most inspirational Drop Zone on the Planet bar none… Peace n Love
Luke Gray
Commenced my AFF Course on the 5th of March 2016 and continued stage 2 through to stage 4 on the Sunday. Had an absolute great time learning this amazing sport. Definitely going back this weekend for stages 5&6 and completing this course to continue skydiving for a life time. I am absolutely hooked.
My partner also did 2 tandem jumps on the Sunday considering that she doesn't like flying or heights and yet due to the nature of Ramblers and their instructors and staff, she is definitely hooked as well. She is going back for a 3rd tandem this weekend too.
They are amazing people and instructors who have a special way of teaching. Their skill sets and experience are of the highest standard and their expectations of their students is fair an achievable. Absolutely recommend Ramblers either for an experience of a life time or to complete a full course. You will not regret it.
Chris Wojtowicz
Awesome bunch of people. Made me feel at home the minute I walked in. Training was everything I had heard and expected. Would highly recommend to anyone interested in skydiving. Thanks a lot Ramblers. Hope to see you all soon.
Brian Germain
One of my all time favorite dropzones in all the world, which is saying something, because I have jumped at hundreds of dropzones. Wonderful people running the place, wonderful people jumping there. Safe operation in every way, and tons of fun!
Alexander Safonov
We spent eight days at Skydive Ramblers during first days of January and had great time. Awesome DZ, awesome friendly staff, great airplane and facilities. Accommodation on premises was great and very reasonably priced. Weather on some days was challenging but we jumped every day as organisers put a lot of effort to make sure good weather windows are utilised to the max. We also enjoyed after jumping socialising at the bar on DZ and great food both at DZ and in nearby Toogoolawah town. Skydive Ramblers are wingsuit friendly and there is plenty of landing space around DZ in case someone can't make it back.
Highlight of our trip was incredible kangaroo action at landing area – we did literally land on kangaroos and it was great fun 🙂 There are also wild koalas in the area.
To summarize – we had incredible time and already looking forward to come back sometime in future.
Ande Rogers
Spent the the day of last week and the start of the weekend for the Coast2Coast boogie. I'm a new jumper and it was heaven on earth for me!
If you haven't been go!! But don't make the same mistake I did and only go for 3 days. You need at least a week!
To say I love it is an understatement. I'll be back very soon!!
You always get to $14000 feet and you are surrounded by fun jumpers with crazy skill keen to teach.
I'll say it again, GO THERE!
Graham Pukallus
Great place to visit, top food and hospitality and plenty of Skydiving activities to watch and enjoy.
Tamara Scheiwe
Memorable, fabulous, passionate, friendly, accomodating, professional. FUN!!!
Benny Canavan
Best thrills and chills going, nice people great instructors, I'd recommend you go to Ramblers all day. Very professional.
Kiara Kirby
Great experience, absolutely unforgettable, staff are all friendly and professional Making the whole experience easy, worry free and exhilarating. 100/10 experience worth visiting worth doing. : )
Steve Lindley
Did my first tandem jump with Sara what an absolute buzz & she made it completely painless highly recommended if you are looking to jump in Australia
ExtremeSportsBlogger
As an experienced skydiver, I took my whole family to Ramblers to introduce each of them to a tandem jump. Ramblers is an awesome experience for tandems and for fun jumpers. Toogoolawah, QLD is a little off the beaten track but well worth the travel time because the experience is just out of this world. The facilities and equipment are amazing. Pool, bar, plenty of wildlife and the location is just fantastic. The staff are professional, friendly and very welcoming. The local regular jumpers are extremely helpful too so have a chat, ask questions and get involved. Enjoy. Blue Skies
Mary Alice Miller
First ever Tandem Skydive. What a fun time! I decided I wanted the 'full experience', so, I chose not to say ahead of time that I *hate* freefalling (like rollercoaster drops) even though I love twists and turns and loops and such. I say this because if this is what stops you – just let them know! Your tandem instructor *can* cut the 'freefall' time short and pull the canopy. I'm not going to lie – that first 10 seconds or so is heart pounding madness. Pure insanity until your brain catches up to the fall. Then it's actually pretty fun if you just relax into the fall until the instructor pulls the rip cord. Under the canopy – once you're floating – it's quiet and beautiful and much slower than you would think. Nothing scary at all. It also helps that the instructors and jumpers wandering around and the ladies in the office are all so kind, helpful and upbeat as you gear up, go through instructions and head up in the plane ride. : )
As a SCUBA Instructor, I'm watchful for safety and professionalism in other extreme sports and the staff, buildings, equipment, plane and even other customers at Ramblers all gave me a feeling of safety and comfort in addition to being genuinely welcoming as newcomer to their sport. If you haven't been and have been wanting to skydive – this is a GREAT place to start your newest addiction. : )
Barrie Jongkryg
Most professional and supportive environment I have had the pleasure of being involved in, great sense of professionalism and fun.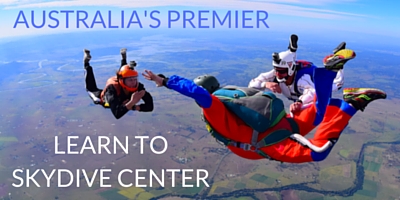 Had an absolute great time learning this amazing sport... I am absolutely hooked. My partner also did 2 tandem jumps, considering that she doesn't like flying or heights and yet due to the nature of Ramblers and their instructors and staff, she is definitely hooked as well. Absolutely recommend Ramblers either for an experience of a life time or to complete a full course. You will not regret it.
Luke Gray