Terms of Use
Skydive Ramblers
Terms and conditions
Website Terms and Conditions
Welcome to our website. If you continue to browse and use this website you are agreeing to comply with and be bound by the following terms and conditions of use, which together with our privacy policy govern Ramblers relationship with you in relation to this website.
The term "Skydive Ramblers" or "us" or "we" refers to the owner of the website whose office is PO Box 136, Toogoolawah QLD 4313. The term "you" refers to the user or viewer of our website.
The use of this website is subject to the following terms of use:
The content of the pages of this website is for your general information and use only. It is subject to change without notice.
All transactions through the website are processed in Australian Dollars (AUD)
Neither we nor any third parties provide any warranty or guarantee as to the accuracy, timeliness, performance, completeness or suitability of the information and materials found or offered on this website for any particular purpose. You acknowledge that such information and materials may contain inaccuracies or errors and we expressly exclude liability for any such inaccuracies or errors to the fullest extent permitted by law.
Your use of any information or materials on this website is entirely at your own risk, for which we shall not be liable. It shall be your own responsibility to ensure that any products, services or information available through this website meet your specific requirements.
This website contains material which is owned by or licensed to us. This material includes, but is not limited to, the design, layout, look, appearance and graphics. Reproduction is prohibited other than in accordance with the copyright notice, which forms part of these terms and conditions.
All trademarks reproduced in this website, which are not the property of, or licensed to the operator, are acknowledged on the website.
Unauthorised use of this website may give to a claim for damages and/or be a criminal offence.
From time to time this website may also include links to other websites. These links are provided for your convenience to provide further information. They do not signify that we endorse the website(s). We have no responsibility for the content of the linked website(s).
You may not create a link to this website from another website or document without Skydive Ramblers's prior written consent.
The services of our company are based in Australia and regardless of the location of our customer / client, any disputes arising from dealing with "our company" are subject to Australian law.
Refund Policy
General Terms & Conditions.
All bookings must be accompanied by at least 10% deposit. This 10% deposit is transferrable but not refundable.
Full payment must be made before the jump or the course package commences.
Online bookings need to be paid in full at time of booking.
Gift Vouchers are valid for 6 months from date of purchase. Gift Vouchers are transferrable but not refundable.
Tandem Refund Policy
All bookings need a deposit to be paid. Deposits for all bookings are transferable but not refundable if notified 24 hours prior to jump date.
No refunds after takeoff for any tandem, training or gift voucher.
Courses and Packages Refund Policy
Please read carefully before commencing your Introduction, Completion, or Addiction Package.
If you decide to cease your package before completing it and within six months of commencement, your refund will be calculated progressively as follows:
Course Package
Introduction

3 Jumps

Completion

10 Jumps

Basic A-licence

15 Jumps

A-licence Addcition

20 Jumps

Price as at 1st August 2015
$1,035
$2,550
$2,975
$4,250
Initial Deduction
$500
$500
$500
$1,000
Jumps Completed
Deduction
Jump 1
$ 395
$140
$1,655
$2,080
$2855
Jump 2
$ 345
$1,310
$1,735
$2510
Jump 3
$ 330
$980
$1,405
$2180
Jump 4
$ 330
$650
$1,075
$1850
Jump 5
$ 260
$390
$815
$1590
Jump 6
$ 260
$130
$555
$1330
Jump 7
$ 260
$295
$1070
Jump 8
$ 260
$35
$810
Jump 9
$ 160
$650
Jump 10
$ 90
$560
Jump 11
$ 90
$470
Jump 12
$ 90
$380
Jump 13
$ 90
$290
Jump 14
$ 90
$200
Jump 15
$ 90
$110
Jump 16
$ 90
$20
Jump 17
$ 90
Jump 18
$ 90
Jump 19
$ 90
Jump 20
$ 90
Initial deduction will automatically be made from an Addiction Package refund to cover the costs of all the bonuses, which is included in this package. Please note. An additional $55- is deducted if conventional stage 1 is done at $460-.
Any refunds must be applied for within 6 months of purchase date
All packages must be completed within 6 months from date of commencement
Any stage repeat jump, including the instructor's jump are included in the total number of jumps in the package
Extra APF charges will apply if the package is not completed prior to the expiry date of the APF Student Licence.
There are no refunds after 6 months of purchase date.
Notice to all students – Course conditions
AFF: Stage 2 needs to be done within 2 months after the First Jump Course. If Stage 2 is not completed within this time frame you will have to pay an extra $100 and sit back in on a First Jump Course
AFF/Solo: If there is a break of more than 6 months between jumps, you must pay an extra $100 and sit in on a First Jump Course
A-Certificate not completed: If there is a break of more than a year since your last jump, you must pay an extra $100 and sit in on a First Jump Course
Customer Service Policy
Ramblers Parachute Centre is committed to providing exceptional customer service and quality products. We endeavour to make sure that all products listed on our website are currently available and pricing is true and correct. Standard delivery time frames are between 2-3 business days. In the event that an ordered gift voucher is not available or we are unable to fulfil your order we will notify you within 24 hours to arrange an agreeable alternative time.
Security Policy
When purchasing from Ramblers Parachute Centre your financial details are passed through a secure server using the latest 128-bit SSL (secure sockets layer) encryption technology.128-bit SSL encryption is approximated to take at least one trillion years to break, and is the industry standard. If you have any questions regarding our security policy, please contact us.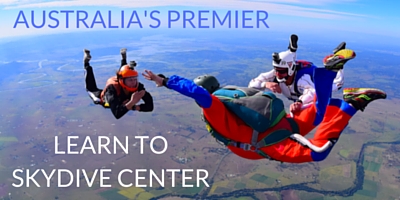 Had an absolute great time learning this amazing sport... I am absolutely hooked. My partner also did 2 tandem jumps, considering that she doesn't like flying or heights and yet due to the nature of Ramblers and their instructors and staff, she is definitely hooked as well. Absolutely recommend Ramblers either for an experience of a life time or to complete a full course. You will not regret it.
Luke Gray