B-Rels & Star Crest
Complete Your B-Rels at Skydive Ramblers
After you receive your 'A' Certificate, the next step towards becoming an experienced skydiver is to complete your B-Rels (B-Rels = 'B-Certificate' Course relative work jumps). B-Rels are designed to teach you how to skydive safely with other skydivers.
The B-Rel program consists of 6 Stages. If your flying skills are already exceptional, you might even be able to do more than one Stage at a time. Once you've completed all six stages (and a few additional minor qualifications), you'll be eligible to receive your 'B' Certificate.
We offer 30 jumps B-Training, 50 jumps C-Training, and 100 jumps D-Training Certificate Course Packages. These are aimed towards anyone wanting a lifestyle or career change. This is for serious adrenaline junkies only.
Find out more on our Learn to Skydive Courses & Packages webpage.
B-Rel Training Video
Certificate Course Packages
Option
Cost
Bookings
30 Jumps - B Training Package


inc. 30 Jump Tickets, 30 Gear Hire Tickets, 8 Jumps with a Coach, Caravan accommodation - 15 days consecutively, DZ Fee, APF B Licence training manual

$3495
Book Now
50 Jumps - C Training Package


inc. 50 Jump Tickets, 50 Gear Hire Tickets, 3 Extra Coaching Tickets, Learn Video Editing, Caravan Accommodation – 25 days consecutively, DZ Fee

$4870
Book Now
100 Jumps - D Training Package


inc. 100 Jump Tickets, Caravan Accommodation – 50 days consecutively, Learn Video Editing, Camera fly – Training, DZ Fee

$5500
Book Now
---
B-Rel Support
One of the biggest hurdles to a skydiver in the early months, is the cost!
To support your early progression in skydiving, the Australian Parachute Federation (APF), the South Queensland Parachute Council (SQPC), and the Toogoolawah Skydivers Club (TSC) are helping you save and get back up in the skies! Be sure take advantage of these rebate and training programs:
SQPC $100 'B Certificate' Rebate Application – A $100 'B Certificate' rebate upon completion of your 'B-Certificate' – available for SQPC members who gain their Certificate B in the previous 12 month.
TSC Jump Ticket Rebate: B-Rel-Reimbursement  – To be eligible for a B-Rel jump ticket refund you need to have been a TSC Club member before beginning the B-Rel jump table, and to have done all these jumps at the Toogoolawah Drop Zone.
APF B-Rel Buddy and B-Rel Boost Camps are training programs designed to help novice skydivers further their training.
This video was compiled on Saturday, the 12th of May with B-Rel candidates Jett Girvin (with the help of his dad David and his mum Vikki), as well as novices Ash Robinson, Tyler Stewart & Warner Trim. Thanks to the APF for their support and thanks to Steve Fitchett and the camera flyers for their contribution.
---
Star Crest
Earning your 'Star Crest' allows you to skydive with groups of 10 or more people. Learn more about earning your Star Crest and performing well on larger flatfly formations in the APF guide below:
APF Operational Regulation
4.4.2 Australian Star Crest (ASC)
Applicants for an ASC must: (a) Hold or be eligible to hold an APF Certificate 'B'; and (b) Have entered fifth or later in at least three (3) separate, successful flatfly RW descents involving eight (8) parachutists or more; and (c) Have each formation witnessed by two ASC holders or two APF Formation Skydiving Judges; and (d) Have a Chief Instructor's verification that the applicant is safe and competent to participate in relative work involving more than ten (10) parachutists
Note: see regulation 11.1.3 regarding RW with more than ten (10) people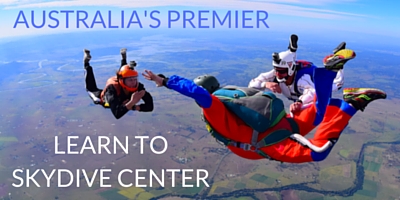 My experience of a tandem skydive was for my 40th Birthday. I could not imagine possibly enjoying myself any more than what I did today. Thank you to my tandem guide and the video guys. Instructions were very clear and thorough about what to do, what to expect and I got a great tour guide experience up in the air. I look forward to doing it again.
MAREE A.