Media Gallery
Skydive Ramblers in the News & Media
2022 Coverage
Love is in the Air – Valentines Day – Heart Jump
ABC News
"Happy Valentine's Day 2022 💗😍❤️
LOVE IS IN THE AIR — LITERALLY 💞
Well this is a little something different for your Valentine's Day!
These experienced skydivers, aged between 35 and 76, jumped from 14,000 feet to make this heart-shaped formation — while freefalling at about 200km/hour! Wow 😍
Thanks for sharing the love all the way from Toogoolawah in south-east Queensland!
📹 David Brown"
---
7 News Sunshine Coast
"Love was in the air over Toogoolawah this morning. A group of 13 skydivers between the ages of 35 and 76 created a heart-shaped formation in freefall for Valentine's Day.
Credit: Skydive Ramblers, Steve Fitch, and David Brown."

---
2021 Coverage
Greg Lee – 100 year old Skydiver – Raised funds for Kidney Health
10 News First, 13th March 2021. Chris Kempey.

---
2020 COVERAGE
The Somerset, 15th July 2020 – Front Cover: "Jumping For Joy"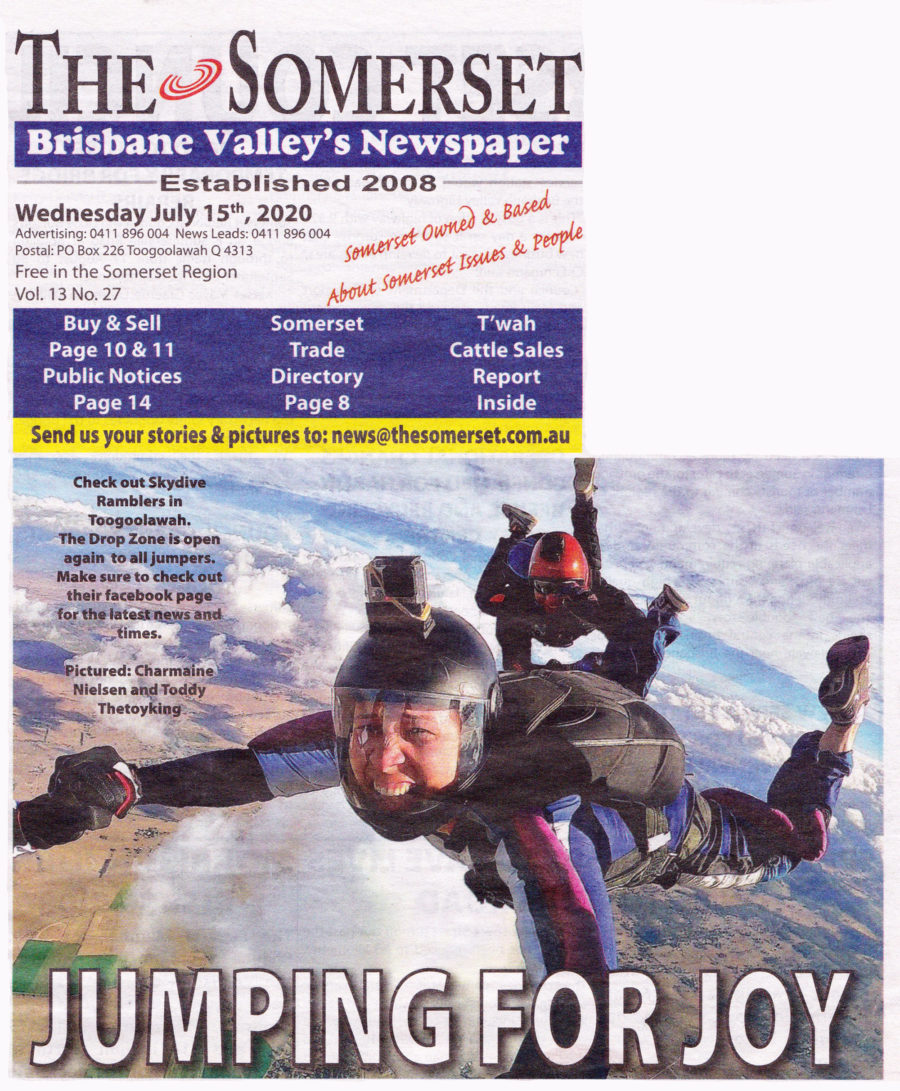 ---
MS Exposed
The TODAY show, 28th February 2020 – Online coverage 9now.nine.com.au
"These australians are skydiving nude to break a world record"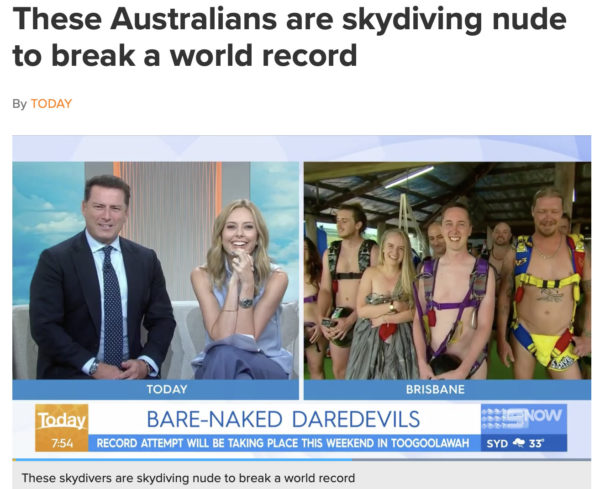 ---
Tim Davies (Channel Nine) Tandem Skydive in a SkinSuit for MS Exposed
Tandem Skydive Video by Steve Fitchett – www.Fitchimages.com
---
QT – The Queensland Times, 25th February 2020:
"Naked Ambition – Cheeky Daredevils on World Record Mission" / "Letting it all hang out for nude jump"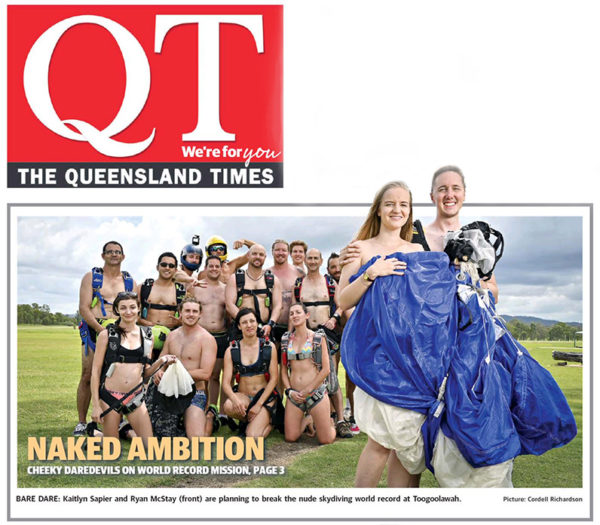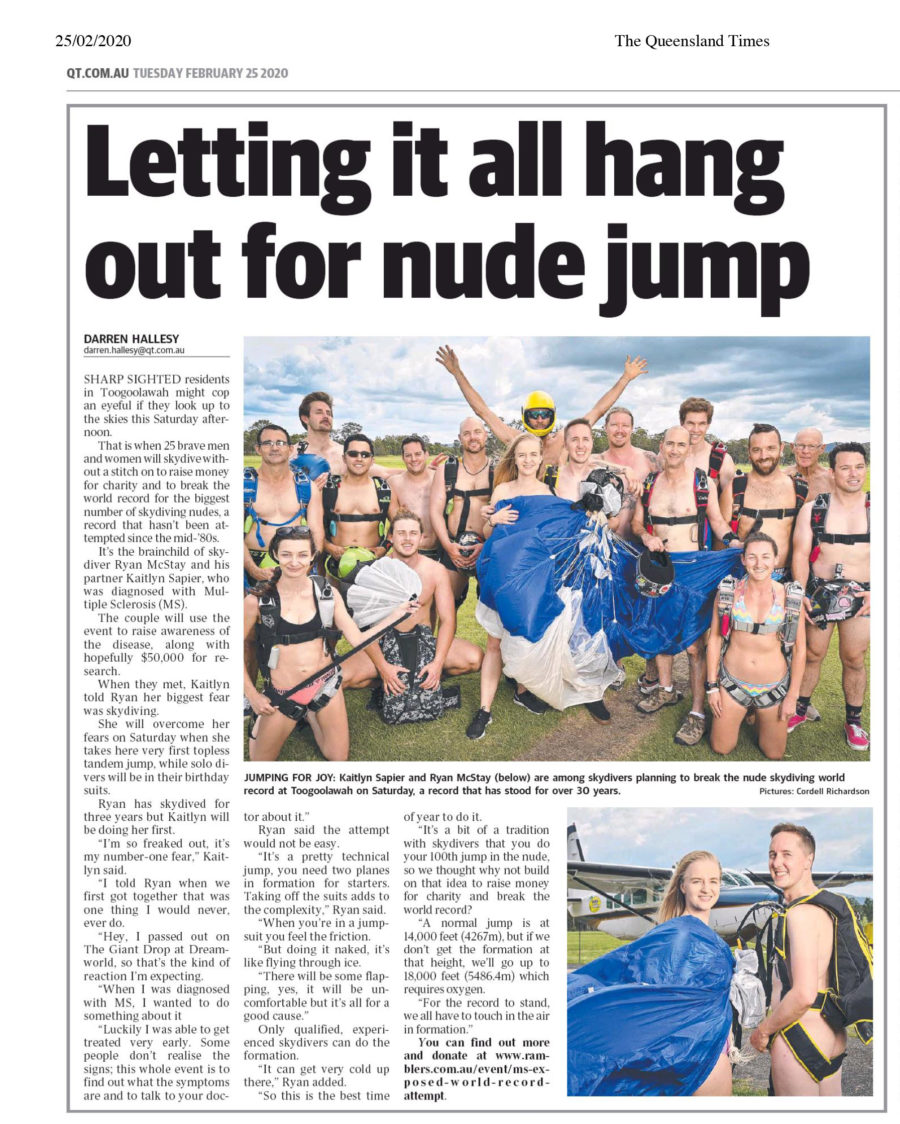 QT Online coverage: "Nudes fall from skies on Saturday"
If you're a subscriber, you can read the full article here: https://www.qt.com.au/news/nudes-to-fall-from-skies-on-saturday/3952624/
---
2019 COVERAGE
I'M A CELEBRITY… GET ME OUT OF HERE! (November 2019)
Chopper Jumps: Caitlyn Jenner & Nadine Coyle
---
BrainBuzz – Ep 30 Fly Without Wings (November 2019) on 9Now @9GoKids
https://www.9now.com.au/brainbuzz/season-2/episode-30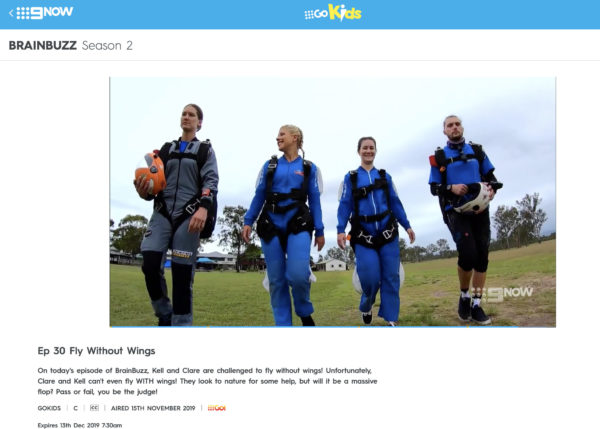 Thanks and congratulations to Clare Van Dorssen and Kellyn Morris for passing the seemingly impossible challenge of flying without wings! Thanks to Channel Nine and the BrainBuzz children's science show for coming to fly with us at Ramblers Toogoolawah. GoKids!
---
Gatton Star (Q&A) – "Dave keeps his head in clouds" (5th June 2019)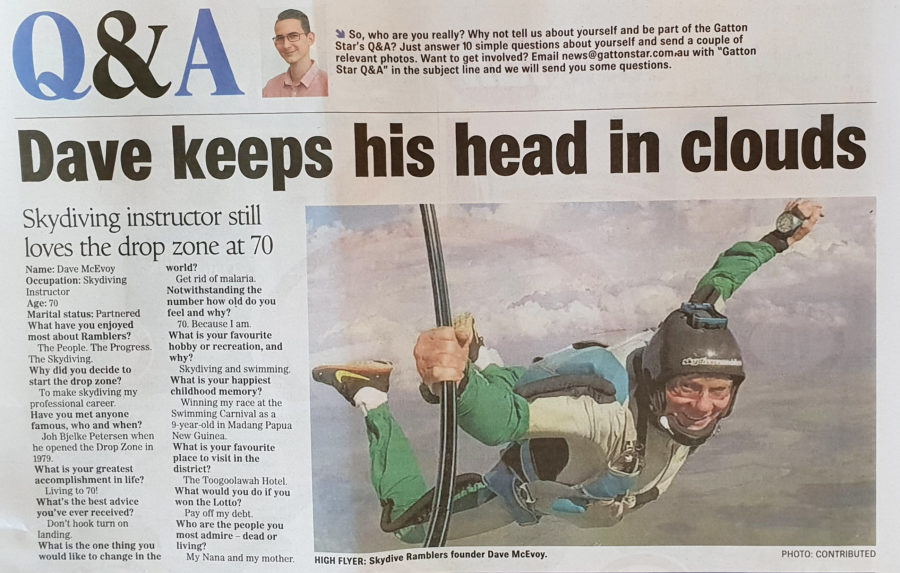 Gatton Star (News) – "Ramblers soar to new height – Celebrating 40 years of free falling" (5th June 2019)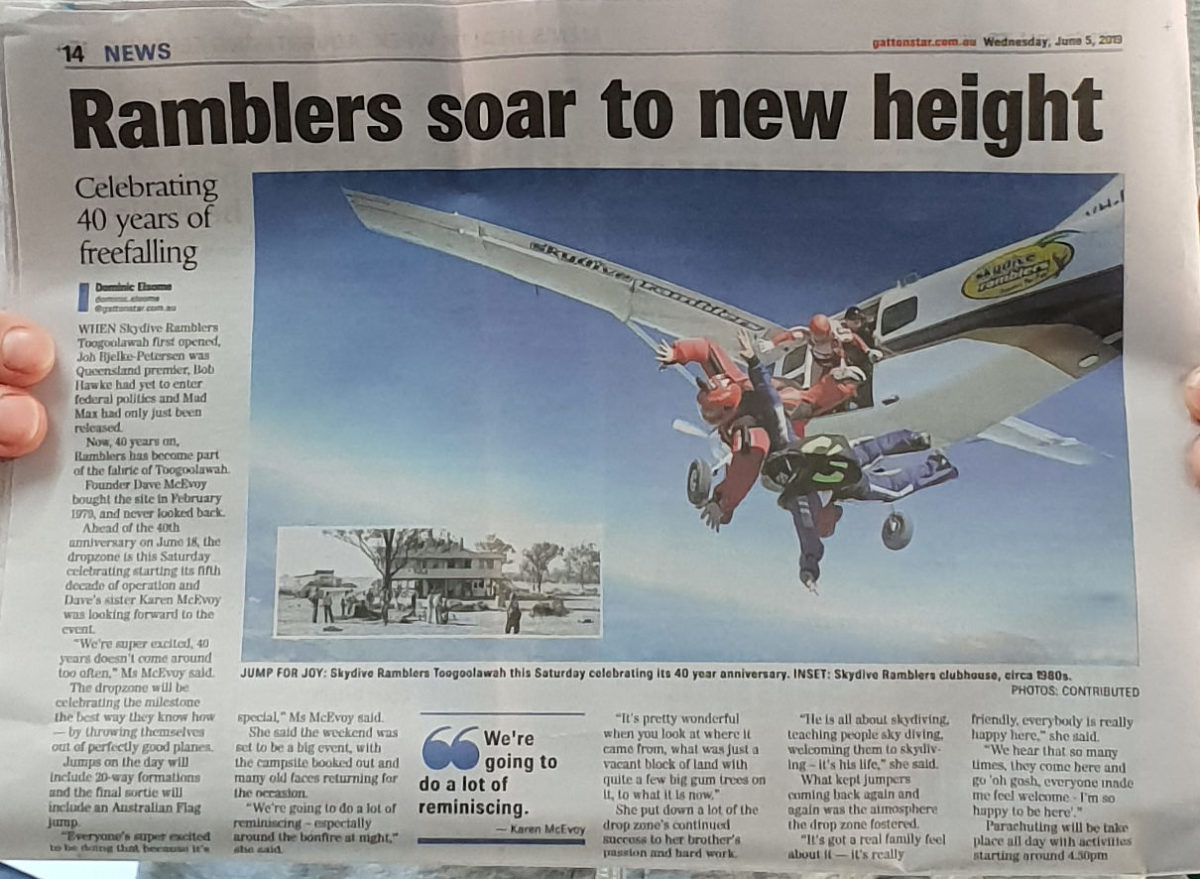 ---
2017 COVERAGE
Downunder Dynamics – DD3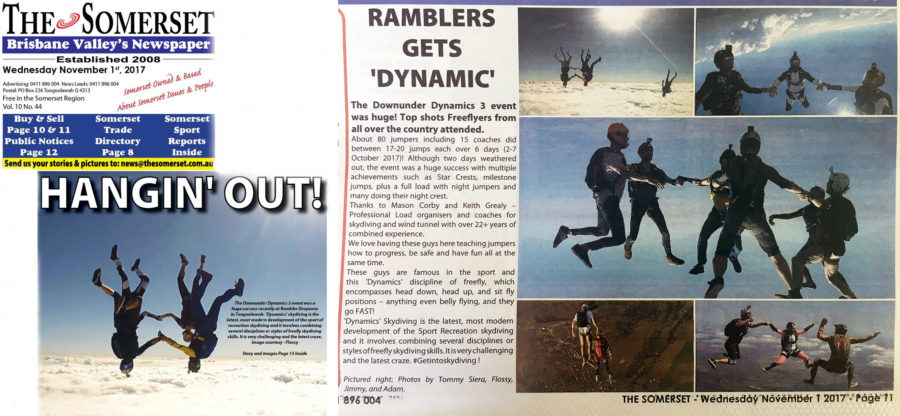 ---
2016 COVERAGE
I'm A Celebrity…Get Me Out Of Here!
Jorgie Porter And Susannah's Unbelievable Helicopter Skydive
(with Chief Instructor Wayne McLachlan hard at work jumping from choppers…)
---
2015 COVERAGE
The Halligans Jump, 12th April 2015
---
2014 COVERAGE
High and mighty Burke seeks cure in the jungle, Daily Express, 17 November 2014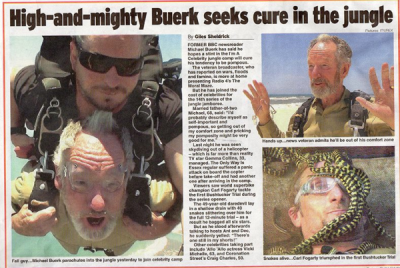 EQUINOX BOOGIE 2014
Somerset Regional Council – website journal, 2nd Oct. 2014: "THE real adventure componenent of Somerset's new tourism brand"
CHANNEL 7 NEWS, 2ND OCT. 2014
Equinox Boogie 2014 Media Launch, 2nd October 2014, Channel 7.
With David McEvoy – Event Organiser, Ramblers Chief Instructor; Dave Morris (UK) – big way formation skydiving coach; and Kirsten Moriarty – Somerset Regional Councillor.
ABC Radio Interview with David McEvoy, 3rd Oct. 2014
River 94.9 Radio Interview with David McEvoy, 3rd Oct. 2014
Valley FM Radio Interview with David McEvoy, 3rd Oct. 2014
The Somerset, 8th Oct. 2014: "Council teams up with the Real Adventures of Somerset"
Kilcoy Sentinel, 9th Oct. 2014: "Council teams up with the Real Adventures of Somerset"
RW CAMP WITH GREG JACK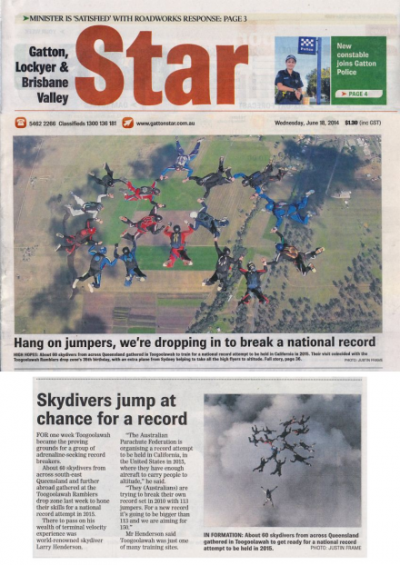 VERTICAL FORMATION SKYDIVING RECORD ATTEMPTS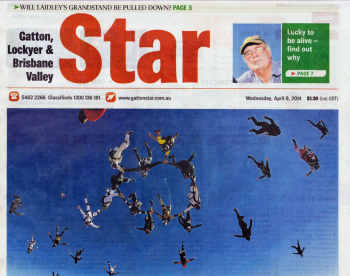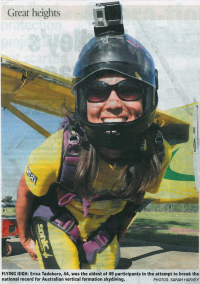 ---
2013 COVERAGE
Totally Wild, Equinox Skydiving & Music Festival 2012.
Aired on 1st April 2013
JUMP 4 JOY FUNDRAISER, TOOWOOMBA SHOW
Deena Dodd from Centacare Toowoomba skydives into the Heritage Toowoomba Royal Show
with Ramblers Skydiving Sunshine Coast chief instructor Wayne McLachlan behind her.
---
---
"Pilot cuts free trapped skydiver"
Sunshine Coast Daily
4th March 2013
---
AUSTRALIAN NATIONAL SKYDIVING CHAMPIONSHIPS 2013
River 94.9 – webpage – "Go for a jump" she said and so…
(Radio Interviews aired with Dave McEvoy & Steven Geens)
The Somerset – Newspaper, 27th March 2013. "Oz Champions to jump on Somerset" (2 pages .pdf)
Network Ten – Totally Wild – segment to air 8-10 weeks after the event (watch this space)
31 Digital / Channel 44 – Producer Kris Anderson visited the event for footage and interviews. Coverage will air around the 22nd of April – watch this space! Live stream will be available at 31.com.au/live
---
RAMBLERS POST EQUINOX SKYDIVING AND MUSIC FESTIVAL 2012 PRINT COVERAGE – EQUINOX 2012
The Kilcoy Sentinel: "Local sky diver celebrates special milestones"
and "Dive for Daniel at Ramblers", 1st November 2012
The Somerset: "Equinox Skydiving Festival soars", 31st October 2012
Kilcoy Sentinel: "Ramblers celebrates Post Equinox Skydiving and Music Festival",
25th October 2012 (2 pages)
The Somerset: "2012 Equinox Boogie Opens", 24th October 2012
Queensland Times: "Thrillseekers set to Boogie", 23rd October 2012
Kilcoy Sentinel: "Great week of entertainment at Ramblers next week", 18th October 2012
Gatton Star: "Reach the heights", 17th October 2012 (3 pages)
Queensland Times: "Skydivers gather for Toogoolawah Tumble" + Equinox Advert ,
17th October 2012
The Somerset: "Jump out & Boogie" + Equinox Advert, 17th October 2012 (2 pages)
Central & North Burnett Times: "Adrenaline Junkie's Dream", Thursday 11th October 2012
Ten News, Sunrise, 25th October 2012
"Put away the knitting needles, forget the Bingo! Meet the skydiving senior citizens who prove you are never too old to try anything. (…) They are not the usual sky high dare devils. This group is aged between 60 and 74 years old. 14'000 feet above the town of Toogoolawah, north west of Brisbane, they've become the first to complete a sequential formation skydive by people over 60. But don't be fooled by their age, these skydivers have nearly 50'000 jumps and 848 years of life experience between them." + Interview on site!
Ten News, Dive for Daniel
ONLINE COVERAGE – EQUINOX 2012
---
NATIONAL SKYDIVING CHAMPIONSHIPS 2012
Channel 10, 9th April 2012
"Australia's best skydivers have soared to new heights setting a hat trick of records. The high speed high stakes action unfolded in the skies above Toogoolawah, when more than 100 of competitors are throwing themselves into the National Skydiving Championships."
ONLINE COVERAGE OF THE NATIONALS
Diving in after a set back, Mosman Daily, 29th April 2012
Freeflyers reach for the sky, Coolum & Northshore News, 20th April 2012
Kiss the Sky, ABC Open, 19th April 2012
Susie gets the jump on her husband, Sunshine Coast Daily, 12th April 2012
George Tang wins 2012 National Skydiving Championships,
UNSW University of New South Wales, 11th April 2012
Local Skydivers earn national formation record, Townsville Bulletin, 11th April 2012
"Ayr Monkeys" achieve first place in four-way Formation Skydiving at Australian National Skydiving Championships at Toogoolawah, Townsville Bulletin, 11th April 2012
Skysisters reach for the stars, ABC Open, 9th April 2012
Flight of the Valkyries, ABC Open, 19th March 2012
Interview after Grant Denyer's Tandem Skydive
SKYSISTERS
FEMALE SKYDIVING CONVENTION
To view Skysisters Coverage, please go to the Skysisters Media page
---
RAMBLERS POST EQUINOX BOOGIE
It's a long way to the ground… if you wanna rock 'n' roll.
The Queensland Times, September 25th 2010
EQUINOX QUICKLINKS
Visit the "Blast of the Past" section – Equinox Boogie 2010
Read the Equinox Boogie 2010 – Media Release (13th June 2010)
Visit the Equinox Boogie 2012 webpage with all the info about the Skydiving Festival and the Music Concert "Equinox Rocks!"
---
TOOGOOLAWAH DROP ZONE IN THE MEDIA
Nine News, Skydive Ramblers Toogoolawah (2010)
---
TV SHOWS & STORIES
Over the years, Ramblers have starred in all sorts of TV Shows and Advertisements. We do all our own stunts!
I'm a Celebrity, Get Me Outta Here
Outback Jack
The Amazing Race
The Great South East
The Weekender
Totally Wild
Scope
Morning Show with David & Kym
Sports Tonight's Play of the Day
4 Roses Bourbon Flying Elvis Advert
The Brisbane Ekka Advert
Ice Break Commercial
Hewlett Packard Commercial
BrainBuzz @9GoKids
Maybe you have some skydiving ideas for your own movie, advertisement or product? Let's talk! We're always up for new ideas and challenges.