A True Aussie Skydiving Experience
Tuesday, April 30, 2019
Have you ever traveled to a far off place and met a person or visited a spot that you didn't expect, but would stay with you for the rest of your life? These are the moments that make travel so special and it usually comes when you least expect it.
Such was the case for me when I visited Skydive Ramblers in Toogoolawah.
My wife and I were on the final leg of the skydiver dream tour – a nine-week expedition that took us to dropzones around Melbourne, Adelaide, Sydney, Perth and finally, Brisbane. We had visited 13 dropzones and this would be our final stop on this most unique Tour of Australia. We had been hired by the Australian Parachute Federation to consult with its member dropzones to offer marketing insights.
Our drive from the Brisbane airport to Ramblers was quiet as both my wife and I were lost in thought reflecting on this life-changing trip while also thinking about all the other aspects of our lives we'd inevitably need to tend to when we'd return home. About an hour into our drive, the conversation perked up as we were traveling through an area that was distinctly different and altogether beautiful; we had entered into the Brisbane Valley while on the A17 which leads you to the famous Brisbane Valley Trail – the longest rail trail in Australia which follows the disused Brisbane Valley rail line that winds its way up the Brisbane valley, traversing farmland, forests with abundant wildlife, cafés, wineries, picturesque rural settings and country towns.
The area is beautiful and if you want to get away from the hustle and bustle of the city or highly-trafficked touristy areas, this is the place to go.
Within a half hour, my wife an I drove up the long driveway to the famous Ramblers dropzone. To say this was our final dropzone on our epic tour, it felt as if we were being rewarded for our efforts. We had arrived at a very special place and as we'd later discover, run by some very special people.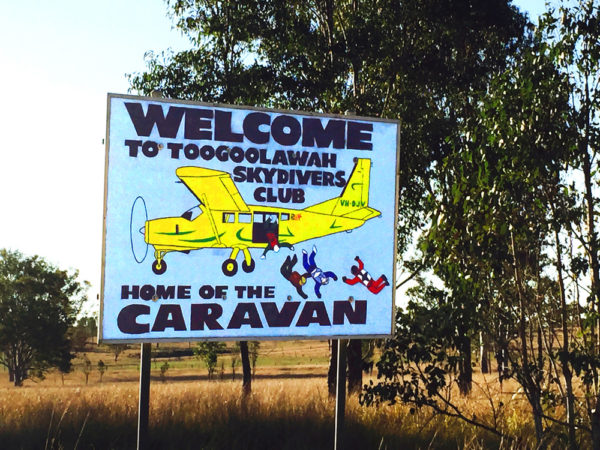 The Eloy of the Southern Hemisphere
If you're a skydiver, the above heading will make sense to you. The mecca of skydiving in the United States is a dropzone located in the desert, south of Phoenix, Arizona in the small town of Eloy. The dropzone, Skydive Arizona, is a western style skydiving center that serves every jumper with amazing weather, a restaurant and bar, gear store and every amenity a skydiver could ask for.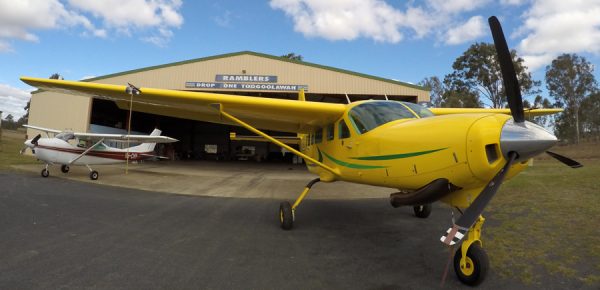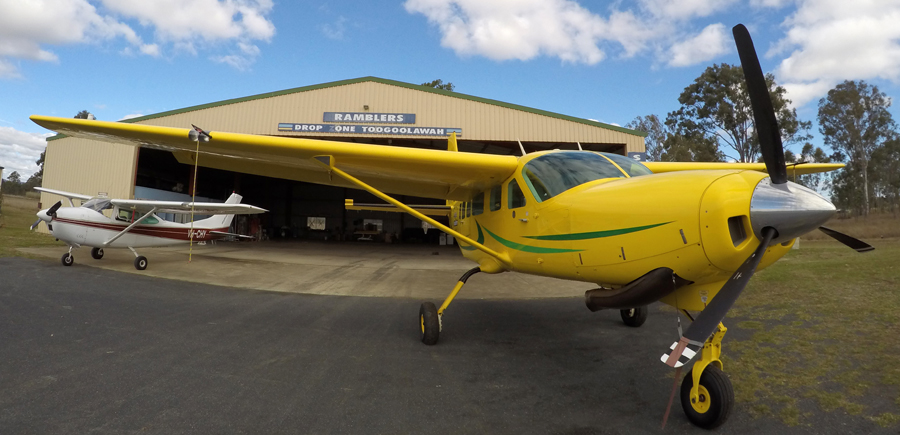 Skydive Ramblers is the Eloy of the Southern Hemisphere. Similar to Skydive Arizona, it's got everything you could want whether you're a first-time skydiver or someone wanting to get serious into the sport. The biggest difference is the lack of desert sand – in fact, it's the near opposite. Sprawling eucalyptus trees are found throughout this campus that offers onsite accommodations to fit any budget, a bar, pool, rigging services and best of all – amazing aircraft – two beautiful Cessna Grand Caravans affectionately named Homer (the yellow Caravan) and Marj (the blue one).
Skydive Ramblers is more like a small resort solely focused on skydiving, but with something, you don't expect – nature… incredible nature only seen in zoos throughout the rest of the world. Having arrived just in time to see the sunset load landing, we were giddy seeing kangaroos in the landing area – not a couple of kangaroos… dozens and dozens seemingly disinterested by the skydivers swooping in around them. Also, we spied koalas in the trees, as well as galahs and stunning lorikeets, everywhere.
It was clear that we had stumbled upon a uniquely Aussie skydiving experience!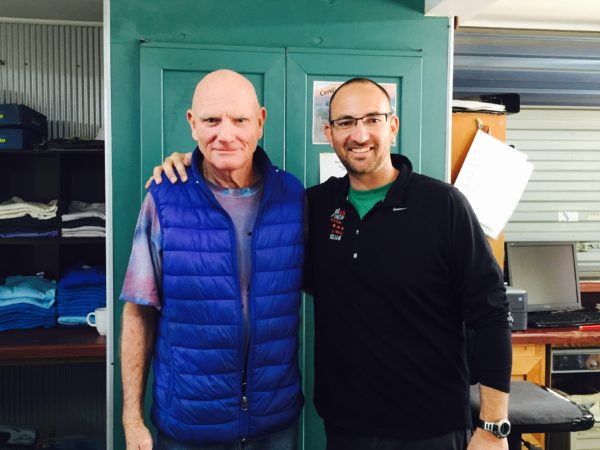 As we took it all in, a man walked towards us who knew exactly who we were (our wonderment made it obvious we weren't from around there)… he introduced himself as Dave. Dave would turn out to be the famous, "Macca." A name we'd heard throughout our tour of Australia and whose name was always mentioned with great respect.
Reference any of Australia's biggest skydiving events and you'll discover that they've all taken place at Ramblers from the POPS World Meet to the Australian Nationals to the famous Equinox Boogie. Some of Australia's most iconic skydiving athletes learned at Ramblers. The success of these events and people can be attributed to Macca. A true blue Aussie and skydiving legend who doesn't believe any of the hype that surrounds his name. What we found was a humble, principled and spirited gentleman who was quick to offer us a cold XXXX Gold and make us feel right at home.
Ramblers Has It All
Having slept soundly in one of the onsite apartments, I woke early on our second day right at sunrise and began making coffee. As the sun began to creep above the trees, I experienced something that I'd never experienced before – nature welcoming the day. In my life, I've never heard more birds erupting in sound – a cacophony of various bird varieties belting out their song all at once. The light also revealed more kangaroos who themselves were slowly getting up having been roused by this natural alarm clock.

This place is truly unique.
Following this epic start, we spent the day getting to know the staff and many of the skydivers there and one thing was evident – Ramblers is serious about skydiving. I was so impressed that someone was onsite videoing all the landings (which would be debriefed that night, collectively) and how passionate every staff member was – the built-in culture is about teaching and equipping starry-eyed students with the knowledge to go out into the big world of skydiving, safely.
As someone who has visited more than 50 skydiving centers throughout the world, I have to say visiting Skydive Ramblers was a privilege. You can feel the skydiving history in the trees as most of the worlds best have jumped here.
I would recommend Skydive Ramblers to anyone looking to feel the true essence of skydiving – this place has it all and will leave you wanting for nothing.
A sincere thanks to everyone we met at Ramblers and making us feel part of the family.