Wendell's Farewell Weekend
Sunday, August 26, 2018
Husband / Father / Mate / World Champion / Legend
Saturday, the 21st of July 2018 was a very special day – Wendell's Drop Zone Memorial with Tandems from our skydiving family – Janine, Rhomaney & Tait Whitten – as well as Instructors Brett Higgins, Archie Jamieson & Wayne McLachlan and Flaggies Doug Stewart and Rod Benson – welcome back guys! Check out some awesome photos by Steve Fitchett – Fitchimages.com .
Read the article in the Australian Skydiver Magazine – ASM issue 88 "R.I.P. Andrew Whitten" by Andrew "Sarge" Preston.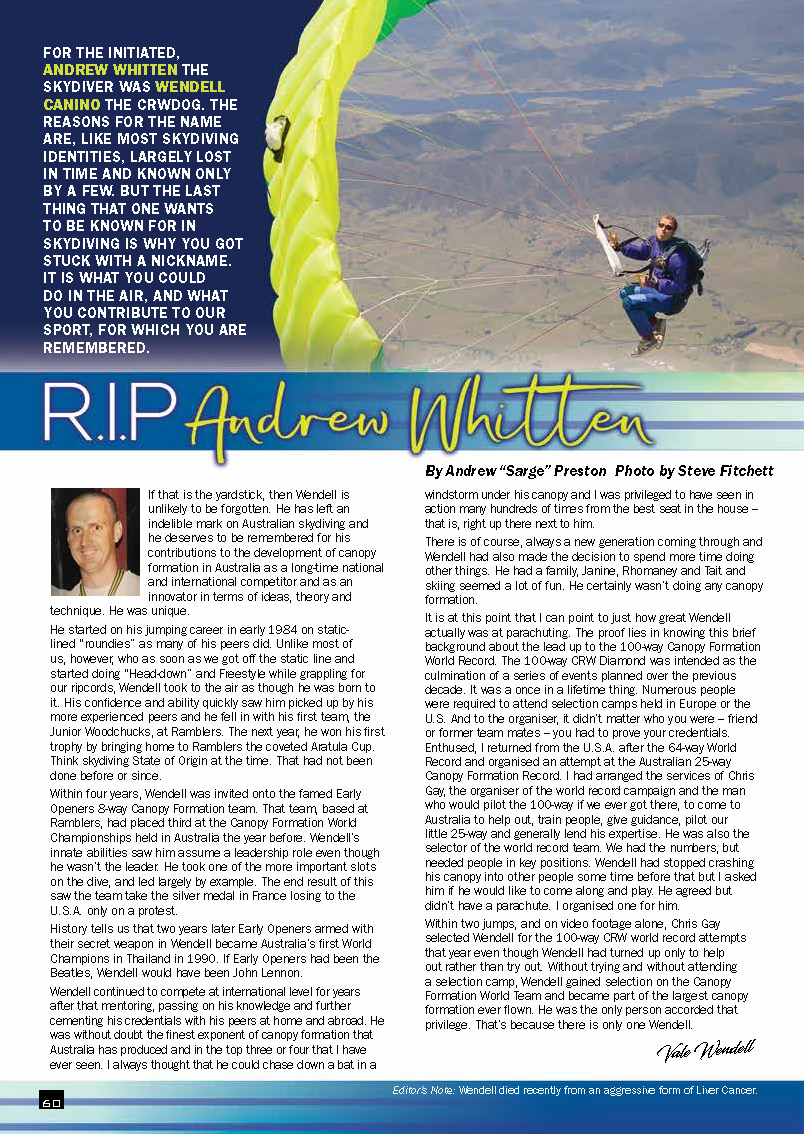 Thank You Letter – to Dave and the Toogoolawah Club Members
Dear Dave,
Please pass on to Ramblers club members our thanks for making Andrew's memorial such a special day. Susie co-ordinated the day with utter enthusiasm and took on so many tasks, which meant that we had practically nothing to do but enjoy it. Wayne McLachlan, Archie Jamieson and Brett Higgins are such professional, skilful, and fun loving tandem masters who worked very hard on the jump to ensure the spectacle was fabulous from both in the air and on the ground. Doug Stewart quietly shouldered the burden of a huge Australian flag as well as the Boxing Kangaroo flag with his usual gravitas. He's not one to show much emotion but we all know he's really a sweetie. Rodney Benson's organisation of a special flag with Andrew's portrait and the slogan 'Legends are Forever' brought us to tears and indicated what a wonderful man he is as he hasn't even met Wendell! Eternal gratitude Rodney. Capturing all this amazingness was the incomparable Steve Fitchett with his helmet full of cameras and his eye for the perfect shot, and he does shoot many perfect shots as well as the essence of the event.
To all those who participated in the 'Ghost Slot' jump, the CRW and the pyro load, thank you. You certainly gave us a lasting memory and we hope you enjoyed yourselves immensely too. Fireworks master, Matt Bustin, gave us an impressive display with a magnificent ending blasting Andrew into the sky. The Manifest staff, ground crew and club members in general contributed to a once in a lifetime extravaganza that left a lasting impression on us and on our family and friends. I'd also like to thank our friends for coming back to Toogoolawah, the scene of many a story, to wish Wendell and us well.
Rhomaney said, "I can't think of a way or a day to better remember Dad. It was incredibly touching and unique, and I'm so grateful to everyone involved for making it as memorable as it was. The love that all present had, and still have, for him was obvious, so I will look back to this day with gratitude, until the day I die."
Tait, who is a grunty teenage boy added "Yeah, it was great, I had a good time. Thanks".
We feel very privileged to be part of such a loving community and your members should be proud to be part of it too. It is a rare thing to be around a group that cares so much about each other and Dave, that is a measure of your leadership. I'd like to thank you for not just allowing the memorial to take place at your Drop Zone but for insisting that it did. You have taken a keen interest in our family's wellbeing for many years and it touches our hearts.
With immense gratitude we offer a huge 'Thank You' to everyone and also to the eagle who graced us all with it's presence.
Janine, Rhomaney and Tait Whitten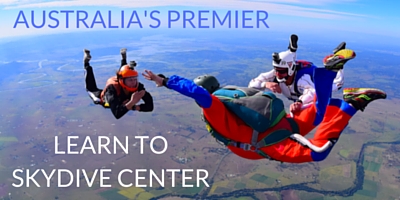 They helped me overcome all my fears! It was INCREDIBLE!
So last week I did a tandem jump!!!!! Was such a mad time! 🤯🤪🤩😮🤗 I've never wanted to skydive before but was asked to do it for work, so I really quite nervous. But the team at Ramblers Toogoolawah were so professional and cool that they made it such an undeniably EPIC and INCREDIBLE experience! Would even do it again! Highly recommend jumping there.
Briana Goodchild – Channel 9 Today Show