Is Skydiving Safe?
Tuesday, August 28, 2018
Let's get right down to brass tacks and discuss the facts about skydiving safety, shall we? If you're smart — and you clearly are, if you're bothering to do your homework about it — skydiving safety is one of the first considerations you have as a first-time tandem skydiver. That makes sense! After all, the idea of stepping out the door of an airplane in flight is more than a little knee-knocking. If you make a tandem skydive, are you going to get out of this in one piece?
Here's what we know beyond a doubt about skydiving safety: Skydiving at a professionally run, reputable dropzone is safer now than it has ever been. 
To answer the question really clearly, let's tease out the different factors that influence skydiving safety.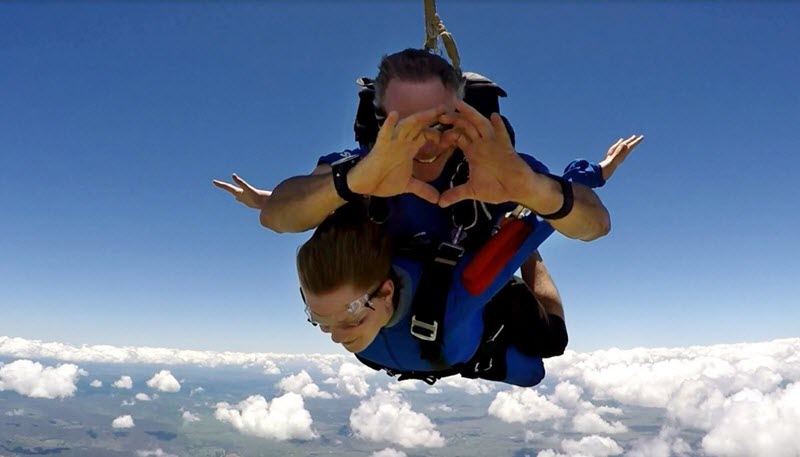 Can you die skydiving?
You need to know that there is risk of death involved with skydiving. That said: You're taking a greater statistical risk when you set out on your morning car commute. Your drive to work is just far less dramatic.
Each of us takes risks every day of our lives. Some of these risks are more than others, of course: riding a motorcycle, walking through a bad neighborhood alone after dark, SCUBA diving, etcetera. Even vacuuming the rug or installing a new light in the living room puts you in harm's way. While jumping out of an airplane in flight might seem like a riskier thing to do, it's not as big a risk as you probably think.
Here's the take-away: It's impossible to live a life free of risks. And, if you attempt to do so, you won't be truly living! The trick is to take the measured, calculated, intelligent, life-affirming risks that will help you to grow as a person and truly experience the world in all its beauty. Tandem skydiving fits the bill brilliantly.
What do the statistics say about skydiving safety?
The numbers are in, and they say that skydiving is much safer than you might imagine. When your adrenaline surges in the door of the airplane, you can be assured that it's for your enjoyment only. That fear has no roots in actual science.
The Australian Parachute Federation has been around for nearly 60 years. Over all that time, they have been carefully collecting statistics on skydiving safety. These statistics state that the safety of skydiving is not only significantly better than most "extreme" activities, it's only getting better with time. (If you don't believe us, you can look at them yourself.)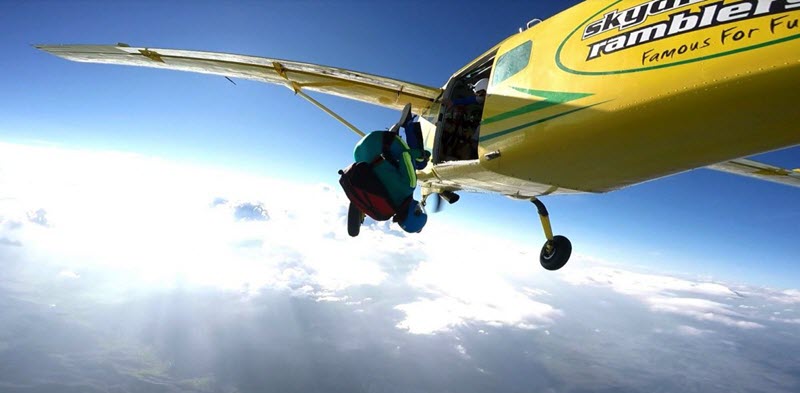 Does Ramblers care about my safety?
Yes, yes, YES.
Ramblers has a decades-long reputation for safety, professionalism and five-star service, and we protect that reputation with immense care. We at Skydive Ramblers go to great lengths to demonstrate our dedication to your safety and the top-shelf quality of your experience through continuous maintenance of our aircraft, through careful upkeep of our skydiving equipment and through the employment of carefully selected, eminently qualified instructors. All of this comes at great expense, but we spare none to ensure that you enjoy the very best the sky has to offer.
If you have any questions about safety, please ask! We pride ourselves on communication and transparency, and we delight in educating our guests regarding the safety procedures that we follow. Don't be shy!