'Reflections of Skydiving': Adrian Seemann
Tuesday, January 8, 2019
Interview with Ramblers Instructor Adrian Seemann
Staff Interview of January 2019
1. Jump numbers / Years in Sport / Licence & Ratings
1700 jumps
3 years in the sport
E Certificate, Display General
Ratings: Instructor B with endorsements: Tandem Master, AFF Instructor, Static Line Instructor, IAD Instructor
2. What was the main motivation for you deciding to Skydive ?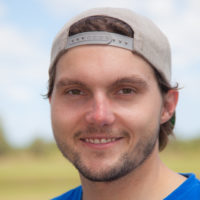 To be honest it was a total fluke. After finishing university I took a year off to travel around the world. After being in Asia for 3 months and being in hospital in Vietnam for 8 days because I caught dengue fever, I decided to come to Australia for a while. At this point I was a bit tired of sightseeing so I wanted to do something different. I wanted to learn surfing but I was still not at 100%, as I was still recovering from the dengue fever, so I figured learning how to skydive would be a cool idea. I had done two tandems before and enjoyed them, so why not!? I booked my AFF-course at Toogoolawah and got to the drop zone with the intention to stay for five days, finish my course and then keep traveling… clearly that plan changed a bit haha!
3. Do you remember your 1st Skydive ?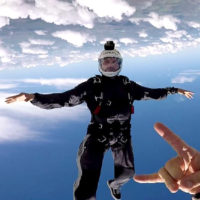 Yes and no! I did my first tandem in Germany approximately 10 years ago. I was completely terrified! As soon as we arrived at the drop zone and finished our paperwork we were on a weather hold and ended up waiting for four hours. I remember I couldn't even sit down for a single second as I was so nervous. It was funny though, as soon as I sat down in the plane I was pretty calm, I guess at that point I just accepted whatever happens would happen haha.
I don´t remember much from the jump itself, except that we fell through cloud. It seemed to me that the whole jump, free fall and canopy ride, did not take longer than maybe 15 seconds (even though it was obviously 5-6mins). Classic example of sensory overload I guess haha.
4. Can you describe your major highlights and or achievements ?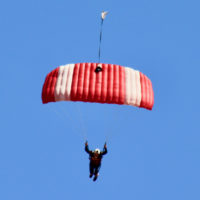 My number one highlight jump would be the jump on the cay in 2017.
Jumping on a tiny little sand island with just incredible visuals is magic!
Highlight event for me so far would be the 2018 CP nationals.
It was my first competition in skydiving and just a great experience.
It was incredible how much I learnt by just being there and I can´t wait to go again in 2019!
5. How important is Skydiving in your life ?
I guess you can say skydiving kind of took over my life. Out of the last three years, since I started skydiving, I spent two and a half years living in a drop zone. It´s almost ridiculous to sometimes see how much skydiving has changed my life! But since I started, it´s the only thing I wanted to do
6. Does Skydiving help you in your work life ?
Considering I do fall out planes for a living – the answer is yes 😄
7. Is there a strategy / plan – to get you to your best focused state before you go Skydiving ?
I try to be 15mins early every morning, so I can stretch (I have to admit, this does´t always work, because I´m not good when it comes to getting out of bed in the morning).
I do believe, that breathing is super important for focus, so I always take a few deep breaths just before exiting the plane and I try to actively breath during the jump.
8. Have you / do you – play other sports ?
I used to play football (soccer) my whole life, played tennis as a kid, did snowboarding, running, fitness etc. I´ve always done a lot of sports and have always been a pretty competitive person. Since I started skydiving I don´t really do any other sports anymore though…
9. Do you like being an Instructor ?
Yes! I can honestly say, that I couldn't imagine a better job!
10. Can you tell us what inspires you ?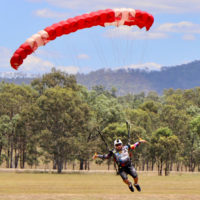 When it comes to instructing it´s sharing what I love to do and what is so much fun to me with others!
I love teaching and doing AFF! It´s so rewarding to see how students progress over the stages or have that lightbulb-moment and suddenly just get it! But I also like doing tandems, seeing the excitement people get from their very first jump and sharing that experience with them is amazing.
When it comes to canopy piloting, I´m pretty competitive and I always want to progress. I just want to become a little bit better every day…
11. Where to next with your Skydiving ?
I want to keep working as an instructor and want to keep working on becoming a better teacher and instructor. Other than that I want to keep progressing and competing in canopy piloting.
---
Thank you Adrian for this great interview. We are glad to have you on board of our team.
---