Skydiving With Your Family
Tuesday, June 18, 2019
Are you looking to find a family activity in Australia that everyone can enjoy? Look no further. At Skydive Ramblers, skydiving isn't just a solo excursion—it's fun for the whole family! This weekend skip the beach and stop by Skydive Ramblers for a family tandem skydive experience your family will never forget.
Who can go skydiving?
The dropzone is a great place for family fun. In Australia, the minimum age for skydiving is 12 years old with parental approval. Wondering about a maximum age? There isn't one. Grandma is welcome to come! As long as your family members are 12 + and want to fly, anyone in your family can go skydiving with you.
Please note, all family members interested in participating in skydiving operations need to be in generally good physical condition.
The cool thing about skydiving is that it is not just enjoyable for those participating in the family tandem skydive experience.  The billowing fabric and bright bursts of color from canopies flying above captivate children and adults alike. Children too young to actively participate in skydiving or other members of your group that are not skydiving can wait on the ground and wave you in as you come in to land.
Reasons Why Skydiving is Guaranteed Family Fun
1. Unplug and Bond
We have the world at our fingertips in computers the size of our palms. While this is seemingly endless grid of connections has opened up a wealth of information, it has also made it easier for us to disconnect from our loved ones in the real world. With our noses pressed to our cell phones, we lose out on precious time with our families. Skydiving is an experience that will bond you and your family in a way nothing else has.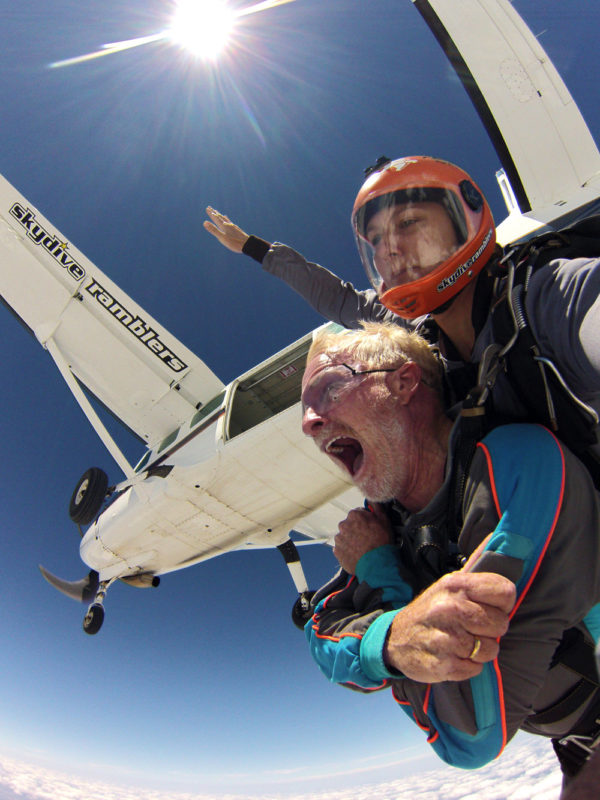 2. See Each Other in a New Light
Skydiving is not a run of the mill activity. For most, it is well outside of their comfort zones.
You'll feel jitters, and you'll feel nerves. For some, this is a challenge to conquer. For others, skydiving is a way to step out of their comfort zone and into an adventure. Regardless, each member of your family will manifest strength and manage this adversity in a different way.
After watching each other overcome your fears by doing something so out of the ordinary, you will gain a new respect for each other. It's not every day you see a family member face down their fears and fly!
3. Skydiving Centre Amenities
Skydive Ramblers is famous for family fun. We believe that fun happens both in the air and on the ground. Amenities include a fooseball table to keep you entertained while you wait, a snack bar if you get a bit peckish, an in-ground pool where you can take a dip after your first family tandem skydive experience, and a bonfire where you can gather with friends and family to celebrate a great day.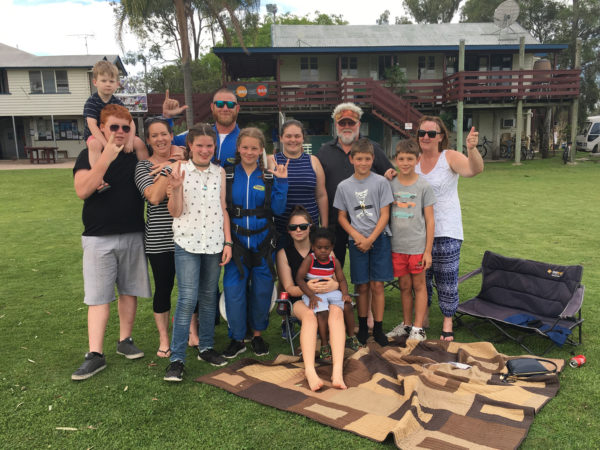 Skydiving with Kids
As mentioned early, with parental consent jumpers as young as 12 years of age can participate in parachuting activities. Don't be dissuaded if members of your family are under the age minimum, younger kids can still be a part of the experience. After all, we wouldn't want you to be without your biggest support system.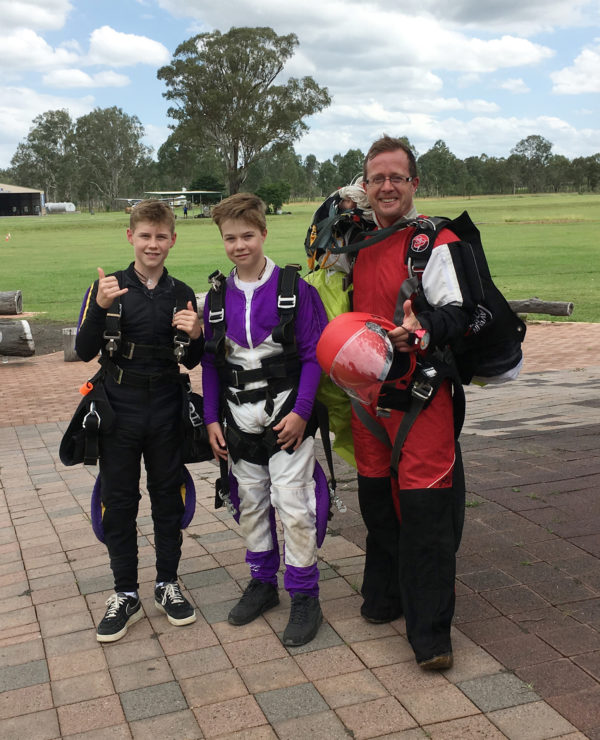 Skydive Ramblers is a community that is much like a family itself: a chosen family built on camaraderie, trust, and a love for the sport. Kids who spend time at our skydiving centre can easily see this and learn about the value of developing positive, healthy interpersonal relationships.
Skydive Ramblers, Australia: The Place for Family Fun
Pick the best family activity in Australia and bring your family out to Skydive Ramblers for a family tandem skydive experience today!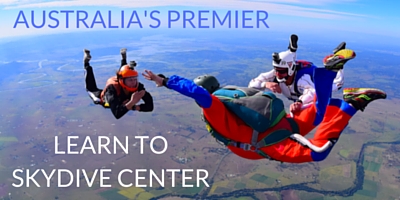 As a SCUBA Instructor, I'm watchful for safety and professionalism in other extreme sports and the staff, buildings, equipment, plane and even other customers at Ramblers all gave me a feeling of safety and comfort in addition to being genuinely welcoming as newcomer to their sport. If you haven't been and have been wanting to skydive - this is a GREAT place to start your newest addiction. : )
Mary Alice Miller