Indoor Skydiving: Learn To Skydive the Way World Champions Train!
Thursday, November 15, 2018
In the last ten years, skydiving has undergone an evolution of change so rapid, it's nearly unrecognizable. In particular, competition skydiving is seeing world records, once thought to be unreachable, now being decimated. The reason? The spread of indoor skydiving wind tunnels throughout the world.
Why Has Indoor Skydiving Changed the Game?
Indoor skydiving has changed everything in "outdoor skydiving" namely because of convenience and time which equates to learning curves rapidly accelerating.
Two minutes flown in a wind tunnel is equal to two actual skydives and yet, it may take two hours to make those jumps at a skydiving center when considering the time it takes to pack, await your load (flight), fly to altitude, jump…. and repeat! It's easy to see why the learning curve for body flight has accelerated so rapidly with the introduction of indoor skydiving wind tunnels.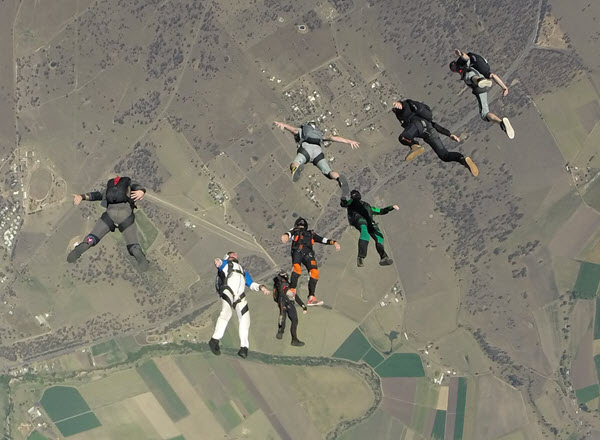 If It's Great for Seasoned Vets, Why Not Beginners?
Skydive Ramblers is thrilled to announce the next major advancement in skydiver training with the introduction of our WTO (Wind Tunnel Option) training program. Skydive Ramblers is one of the very few training centers in Australia to migrate wind tunnel training into an AFF (Accelerated Free Fall), and IAD (Instructor Assisted Deployment) learn to skydive programs.
The introduction of the WTO is a major step-up as it allows beginner skydivers to:
Build strong fundamentals allowing for better performance in free fall during the AFF program leading to a higher program success rate.

Builds confidence as the foreign feeling of free fall and the rush of wind on the body feels more normal during AFF training.

Accelerates the progression through the AFF program greatly reducing the need for repeating AFF levels due to a sound skill set.
Indoor Skydiving Brisbane
All of our indoor skydiving training takes place in Brisbane and is pre-scheduled with your instructor. The WTO program is not mandatory, but highly recommended if your desire is to accelerate your learning curve and build confidence more quickly – it's that much of a game changer! The WTO training costs an additional $330 for twenty minutes (2 x 10-minute blocks). The WTO fee must be made with the initial AFF or IAD package booking.
Another Reason To Train at Ramblers!
Skydive Ramblers is synonymous with world-class skydiver training and that reputation continues into the future with the inclusion of the WTO program. If you wish to be the best, start with Ramblers!