EOM Wingsuit weekend with Luke Rogers (May 2019)
Thursday, May 30, 2019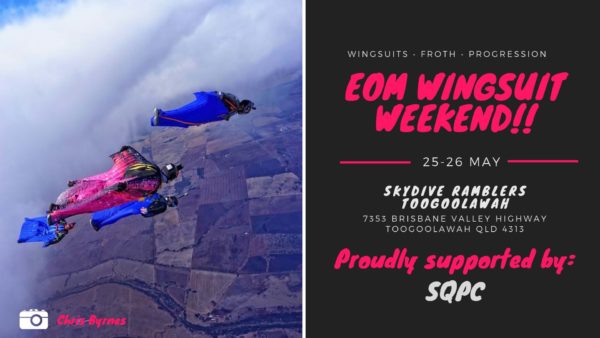 The EOM Wingsuit weekend held at Skydive ramblers Toogoolawah on the 25th and 26th of May had a lower turn out than previous EOM events due to the weather getting colder and a bunch of music festivals and events clashing on the same dates.
This however worked out in favour of the dedicated up and comer wingsuit pilots in smaller suits,  getting some more focused personal coaching to advance in their wingsuiting!
James Gentle as he is known completed not only his first flight course, but also his entire wingsuit crest in one weekend! Along side Sam Nield and Nige Hawtin who also completed their wingsuit crests.  Nige Hawtin flew all the way from Sydney to attend the event and gain his wingsuit crest!  A Massive congratulates for their hard work!
Brendon Fritz also joined in getting current in his wingsuit after having some time off and it was like he didn't have a day off! He was adapting well to the changes that wingsuiting has taken on in his absence.
Gavin Maxwell and Brett Hyland showed how much purposeful practice has been paying off with their flying skills always progressing well in small amounts of time and seem more stoked about their flying each time we fly together.
We also got a visit from Guillaume Cornet who was coming out for his first flights since his wingsuit First flight course, he was practicing Navigation and just getting more used to flight characteristics of wingsuits and is very eager to get among the fun!
Overall we saw 3 more people gain their wingsuit crests (one from inter state) and the wingsuiters in the smaller suits making the most of the smaller numbers and getting as many jumps as they could with more focused training jumps aimed towards skills they want to master.
We are aiming to do more events focused on the upcoming wingsuiters with the aid of the Toogoolawah Skydivers Club to aid in retention rates and see the beginner/intermediate wingsuiters being looked after, this was a perfect practice run for these events to aid in structuring further events specifically for this category!
Cheers,
Luke Rogers