SEQS Club: 4W4E (4 Ways 4 Everyone)
It's on again!! The PREMIER 4-Way FS event in South Queensland!
Next Date: August 29 - 30, 2020
THIS EVENT IS PROUDLY SPONSORED BY THE APF SPORT DEVELOPMENT (FI) FUND.
Without funding from the APF, events such as this just would not go ahead. The support received from the APF for this, and other events, is both generous and very gratefully received.
We build teams for YOU to get the best amount of coaching and fun possible!!
Registration
Registration is $50 ( plus daily rego for Ramblers) – you also need to cover your 3 jumps for the event.
** YOU MUST REGISTER AND PAY TO BE GUARANTEED YOUR SLOT **
https://docs.google.com/forms/d/e/1FAIpQLSe18tImebs_bvADMolHYy8HTYryHRBz2cUTlen_NNmNXJwQ4g/viewform
FREE Coaching, plus FREE Video!
Gold, Silver and Bronze medals up for grabs plus other prizes awarded including the MOST IMPROVED NOVICE!
3 Jumps (you just cover your own slot)
Event Briefing and Meeting 07:30am SHARP Saturday morning. That means jumpsuit on, electronics on, rig packed and itching to get dirtdiving.
First load around an hour following the Briefing. Don't be late or it will impact YOUR team!!
PRIZES
(will be updated as more are confirmed)
Gold / Silver / Bronze medals.
Most Improved Novice Award sponsored by Downward Trend: 30% off a Vector/Javelin.
Door Prize sponsored by Cookie:

30% voucher for a G4/Fuel.
$50 Voucher for Toogoolowah hotel
Some more information
4W4E1 is designed for the development of FS (RW) skills and an introduction to competition, this fun event attracts a wide range of people from first timers to people taking the opportunity to move to the next step in their skills development. It's also the perfect opportunity for jumpers of all levels to gain some expert coaching from some of Australia's most accomplished skydivers.
Teams are chosen from the pool of registered participants, according to jump numbers. Teams will be composed of – 1 Novice (<100 jumps), 1 Intermediate (~500 jumps), 1 Open, plus 1 Expert/Open jumper/Coach.
Just EIGHT slots available in each category for this event!!
The competition is run over 3 rounds and, as well as the winners receiving the glory and the medals, there is also an awesome "most improved novice" prize awarded.
This fun weekend is a great opportunity to find others at the same level that want to start a team for the State Championships or maybe even the National Championships!
We hold the Sunday for a Weather Day.
Note – We have previous years had CI approval for a novice to compete if they have completed 1 of their 4 way jumps of the B-Lic table, Please contact us if this could be you!!
Upcoming Dates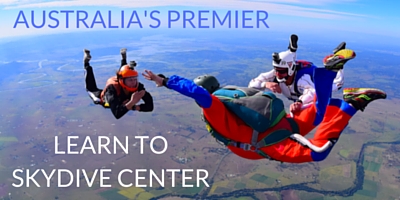 Most amazing experience. Staff are all professional, very safety oriented but make the entire time you are there so much fun. First time jumper and we did it at night during their equinox boogie and the atmosphere was brilliant. Highly recommend to anyone wanting to experience an amazing jump.
Kathlyn Wiles