40 years Ramblers! Milestone Celebration
Come jump and celebrate this special day with us!
40 years ago, on the 18th of June 1979, the Ramblers Drop Zone and airstrip had it's official opening by Joh Bjelke-Petersen, former M.L.A. Premier of Queensland.
First jumps were made on the 2nd Saturday in February from the Cessna 180 VH-RJN. Jon Kent was the first to land, just before Dave himself.
The History of Skydive Ramblers
Back in 1966, Bob Morrison was the original Rambler. He trained up Instructor Dave McEvoy in the late 60s. Dave carried the Ramblers torch and founded Ramblers Parachute Centre in 1974 and started training new students professionally.
He also founded the successful Australian parachuting magazine 'Rambling On' to communicate with jumpers nationwide, which is now the ASM (Australian Skydiver Magazine), edited by his daughter Susie McLachlan.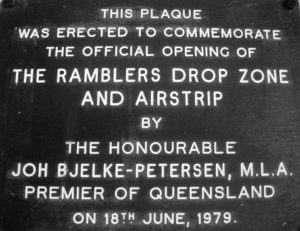 In 1979, Dave purchased the land at Toogoolawah and built the drop zone from the ground up. In the same year, Ramblers became the first Parachuting organisation in the world to use modern sport parachute equipment for student use.
In 1982, Ramblers was the first organisation in Queensland and second in Australia to adopt the Accelerated Freefall (AFF) method of student training.
In the early 90s, Ramblers was the first operation in Australia to use the Tandem Assist (TAF) method of training students.
For more info, visit our history webpage for all the info – a true blast from the past.
Upcoming Dates