CELEBRATING DARREN DOYLE: Our Chief Instructor's 50th Birthday!
Thursday, March 12, 2020
Darren Doyle is a staple amongst the Rambler's team. He's been skydiving for 25 years racking up over 8,500 jumps, and he's our beloved Chief Instructor. On February 29th, our dear friend is celebrating his 50th birthday! Here we get to know a bit more about Darren and how Skydive Ramblers came to be his home.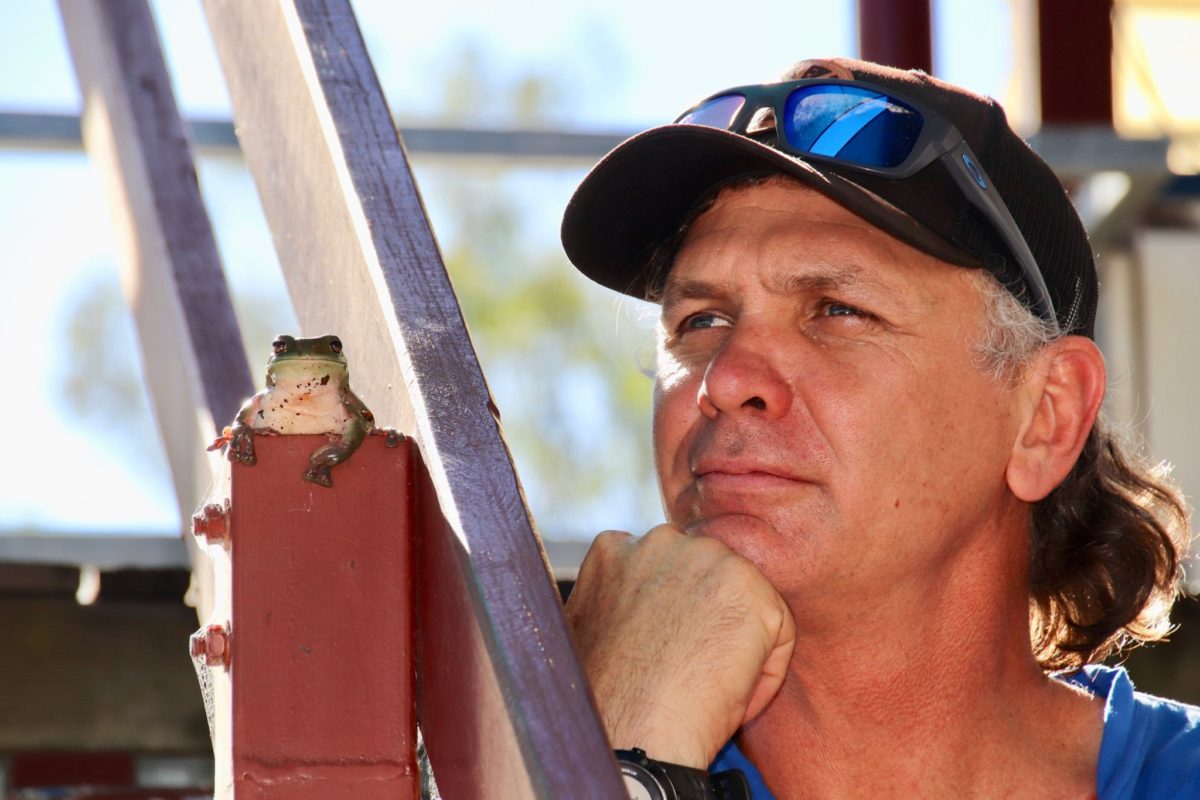 As a child Darren used to love climbing big trees, and sitting on mountain tops gazing off to the world below. Something inside of him knew that there was a whole new world awaiting him, and he sought after the dream of flight. "As I grew older, I knew [skydiving] was something I had to do. I was right!" Darren fondly remembers. 
THE FIRST JUMP
In 1995, Darren showed up for his course on a small dropzone in Ayr, Northern Queensland. He showed up to the site of a Cessna 206 with no door and a Cessna 182. "My Chief Instructor (now a friend, mentor and inspiration to this day), Richard Pym, now runs one of the biggest drop zones in the world. I completed a 9 stage AFF course (without a TAF first jump since it wasn't being used at that point) without a fail from 10,000ft, so I guess I did ok during training." recalls Darren as he learned to skydive. 
"I fell in love with jumping very quickly and then did everything I could to study this wonderful art form. I remember driving home from the drop zone after jump one, wondering if I had enjoyed it. I went back the next day and have never stopped since. I am an electrician by trade and have had some big paying jobs and I never thought I would be a full time skydive instructor. As the years went on, I knew it was all I wanted but I did not want to throw drogues all day, but instead train students and get to fly my own body. I have found my niche in the world."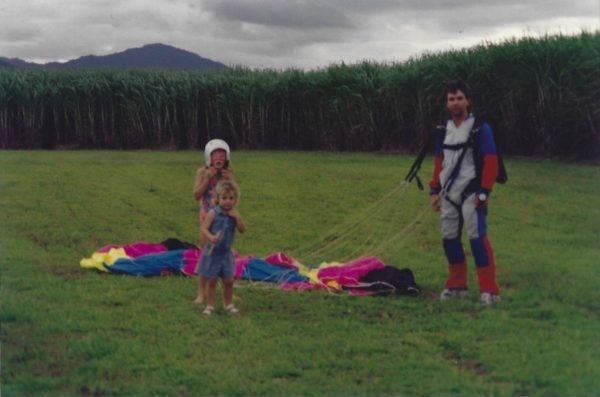 JOURNEY TO BECOMING CHIEF INSTRUCTOR
Darren has been a part of the Ramblers team twice now. The first time was from 2005 – 2007 in Coolum on Australia's east coast doing tandems and videos on to the beach. He'd also come out to Learning Curve Camps and Boogies to coach. "Skydiving has been great for travel as travel has been great for my skydiving. My first overseas trip was to Spain/Portugal for a "GO VERTICAL" boogie with my then Freefly coach, Tim Porter and the boys from Babylon. I had visited Egypt on the way there and met a lovely American girl whom I went to visit after the boogie. Whilst she went back to work, I started jumping at Adventure Skydive Centre in Cedartown, Georgia. I was approached by the owner who offered me a chance "to live the dream" and work as an instructor. At the time I had a good job working for BHP so I said "no thanks". I could not stop thinking about it and 18 months later I was back in the USA for three years. I already had an Australian AFF rating and then got a USPA Tandem and AFF rating. I then went on to open a bunch of drop zones for this Operator. In 2006, I got to compete for Australia at the 1st World Championships of Canopy Piloting in Vienna, Austria where I feel I held my own and was happy with my results. For 3 months prior to the competition, a mate and myself travelled Europe competing on the European Pro Swoop tour."
The previous three years Darren found himself in the US and returned with his American girlfriend to travel Australia. "On our trip I was offered a number of jobs and decided to work in Coolum. In 2016, Ramblers was looking for a new Chief Instructor. I had not long returned from running the Skydiving School in Methven, New Zealand and knew this was the job of my dreams. I have worked and run drop zones all over the world and to this day, Ramblers remains my favourite. I am now driven each day to make this an even better dropzone than the one we have today."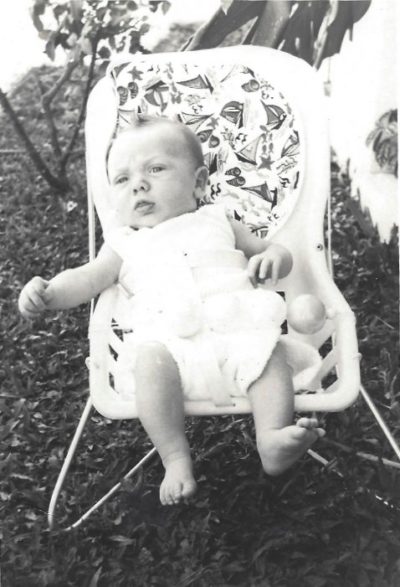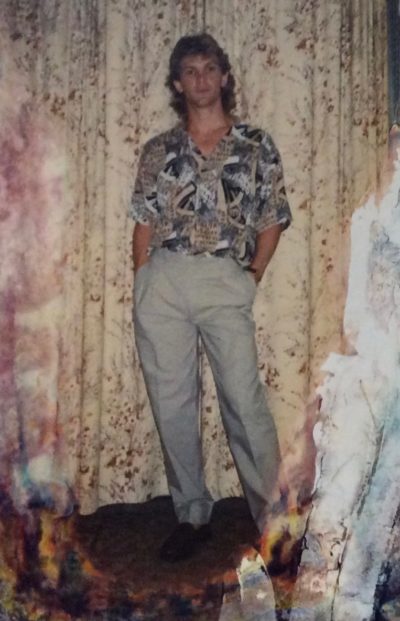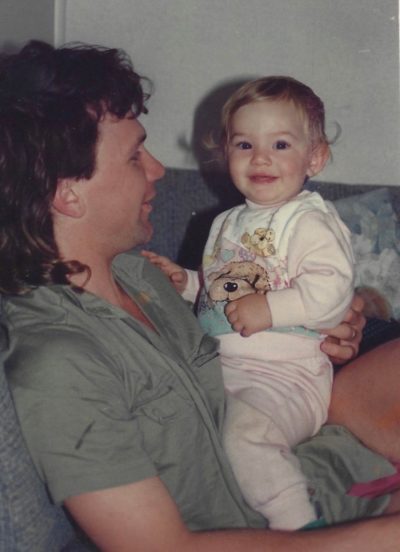 ACCOMPLISHMENTS
Darren now boasts 8,500 skydives, holds an Instructor A rating (IA), and is Rambler's Chief Instructor (CI). His other highlights and achievements include: 
Representing Australia at the 1st Championships of Canopy Piloting in Vienna, Austria

Jumping into the Cowboy's Stadium

Landing on a small cay on the Great Barrier Reef

Mountain swooping in Norway

Speed Flying in New Zealand 

Worked or run dropzones in Australia, New Zealand, USA, Ireland, Sweden and jumped in half a dozen more!
Since skydiving is Darren's work life, he says that it's different than what people realise it's all about. "Skydiving has allowed me to look at myself from different angles and work on some of my deficiencies," he says. "Now, it's hard to remember when I wasn't an instructor. I think it has made me more patient, and I'm getting better at listening and public speaking – which used to be my biggest fear!"
When not teaching Darren enjoys freeflying. Old fashion, straight up and straight down, sitting in place and turning points kind of freeflying. "I love it all and I'm happy to try it all. I'm excited by how quickly the sport is changing and developing!" he said. 
LIFE NOW
It's rare to find people like Darren – someone who is still incredibly passionate about the sport even after having been in it for some time. We had to ask, what's your secret from burning out? 
"I LOVE TO SKYDIVE," he simply stated. "It does however burn people out. I try to get off the DZ whenever possible and I try to have interests outside of the DZ. I think another good trick is to go back to a "real job" every now and then to make you realise how good you have it." He also made it known that skydiving is very important to him. "It's what I do for fun, what I do for work and all of my good friends are skydivers. Plus, there's no traffic, and loads of wildlife outside my door!"
He went on to say, "I want Ramblers to be the best it can be. I'm inspired everyday by those jumpers around me who are the most wonderful people and I want their experience to be the best it can be."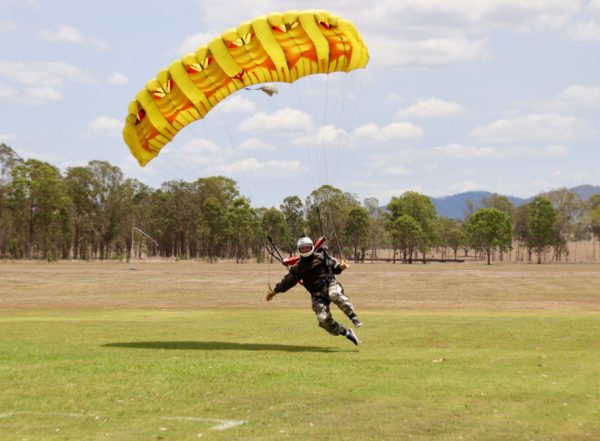 SHARING WISDOM
When asked to give his past self, the person learning to skydive advice from the person he is today, he said, "DON'T TURN LOW. Don't be a dumb arse. Take your time and don't get impatient. You will never feel like you are good at everything. It's impossible to be the best at it all. DON'T TURN LOW."
We got it, Darren! Turn your parachute high and let it fly! 
THE FUTURE
Darren has accomplished so much and is content leading our instructional team and guiding students. So what's next? "I would really like to compete again and see if an old dog can stay with the young pups," he responded. 
And we are incredibly fortunate to have Darren on our team as his passion shines with everything he does, welcoming guests to the dropzone, to guiding jumpers passing down his wisdom, to training students. "My life before skydiving was normal and that's ok. Now, I can't imagine not having it in my life. It's my job, my sport, my passion and my social outlet. I find skydivers full of life and the rest of the population….."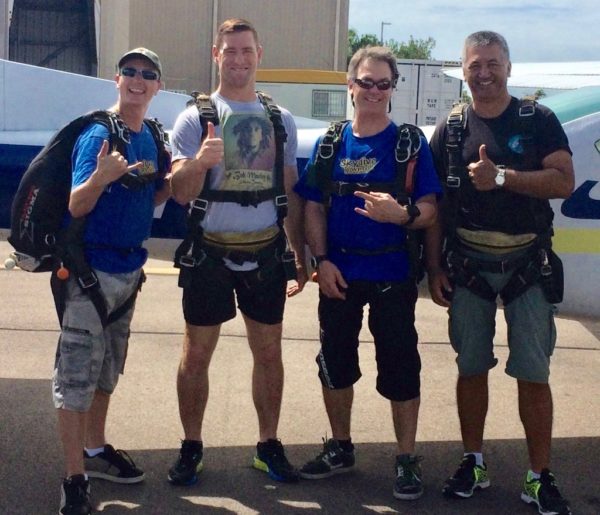 Thank you for all you've done for our sport, Darren, and for us here at Ramblers! From all of us here, we wish you a mega Happy 50th Birthday!